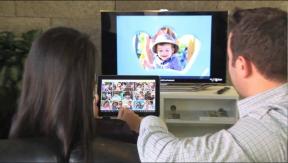 New York – With an eye toward enabling the creation of lower-priced tablets, Seagate today rolled out a 500GB ultra-thin hard disk drive.
Seagate also reported it has increased the amount of data it can store on a single disk by 25 percent, and the company has begun offering a new product protection plan.
Seagate has combined its Ultra Mobile HDD with its Mobile Enhancement kit software, allowing the storage device to work in small devices from 5 inches in diameter and larger.
The end result is a 2.5-inch drive that is 5mm thick but delivers the same response time as a solid-state drive, the company said. The speed boost comes from the Mobile Enhancement kit, which is a set of software drivers that utilizes the device's built-in flash memory in much the same way a hybrid HDD/SSD works.
The software decides what data will be immediately needed and downloads it to the device's internal memory and keeps the rest on the HDD. It can even keep track of what photos or songs a person access often and make that available on the flash memory so it can be accessed faster.
The Ultra Mobile HDD is designed for ODM use and will not be an aftermarket product. Its bulk cost will be $92 per drive, which is substantially less than a comparative SSD. The drives are now available. The beta version of the Mobile Enhancement kit software should be ready by early November, the company said.
In other news, Seagate announced it has increased the capacity of its drives using shingled magnetic recording technology by 25 percent. This will allow 5TB of data to be written to a single disk — a 1.25TB improvement.
The company also rolled out its first product protection plan. Consumers who buy a hard drive from Seagate, or any of its competitors, can buy a protection plan for one flat fee.
The program covers all aftermarket and installed hard drives as long as the protection plan is bought within 30 days of the product purchase, the company said.
Two plans are now being offered in two-, three- and four-year increments: Rescue, and Rescue and Replace. The Rescue plan has the consumer send the damaged drive back to Seagate so the company's technicians can pull off and save the data. The company expects a data-recovery rate of about 95 percent.
The Rescue and Replace plan saves the data from the broken drive and gives the drive owner a comparable replacement drive.
Fees are $29 for two years, $39 for three years and $49 for four years. Adding the replacement aspect costs an additional $10 per contract.
The service will be sold in much the same way as extended warranties, with the retail sales associate making consumers aware of the program at the time of purchase.
Latest posts by Doug Olenick
(see all)