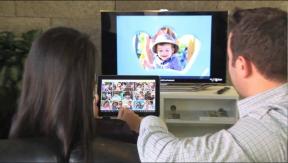 San Francisco – Sandy Gross of GoldenEar Technologies was named Small Business Executive of the Year, one of three inaugural Consumer Electronics Association (CEA) Innovation Entrepreneur Awards presented during a luncheon at its 2012 CEA Industry Forum.
Also honored were ecoATM and GrandCare Systems, given Small Business of the Year awards.
About the 2012 winners:
Sandy Gross, Small Business Executive of the Year: Gross is co-founder of Polk Audio, Definitive Technology and his latest business, GoldenEar Technology.
At Polk he was in charge of marketing and product concepts. In 1988, Gross left for a stint in Hollywood, then founded Definitive Technology in 1990. The company designed high-end center-channel and surround-sound speakers.
He retired as president in 2009 and started his third loudspeaker company, GoldenEar Technology, in 2010.
Gross is often called upon by other entrepreneurs, in the early stages of developing their companies, for advice.
In his acceptance remarks he thanked audio pioneers like "Henry Kloss and Saul Marantz, who were mentors of mine," and added that he has been "very lucky to make a career in high-end audio, a business that provides pleasure and entertainment."
ecoATM, Small Business of the Year: – Originally called reMobile, ecoATM was founded in 2008 by Tom Tullie as an automated station for e-waste recycling. The company's automated kiosks buy back used cellphones, MP3 players, iPods, iPads and game media and provide cash or in-store credit. The company incentivizes consumers to participate in reselling and recycling to cut down on CE e-waste.
In accepting the award Tullie said, "We hope CEA members continue to introduce next-generation technologies so we can recycle the last generation products."
GrandCare Systems, Small Business of the Year: – The company integrates daily activities, telehealth monitoring, social networking, medication management and cognitive assistance into a user-friendly touch-based system for seniors. Charlie Hillman, founder and CEO, originally created the system to help his great-aunt live independently. The system connects to the Internet allowing caregivers to communicate with their loved ones.
In accepting the award Hillman said, "18 percent of this country's [gross national product] is dedicated to health care and that figure is rising every year. That is economically unsustainable and something must be done about it."
Fellow Small Business Executive of the Year nominees were David Lorsch of DC-Genius in Scottsdale, Ariz., and Jake Sigal of Livio, based in Ferndale, Mich. Fellow Small Business of the Year nominees were Audio Video Interiors, Middleburg Heights, Ohio and iBiquity of Columbia, Md.
The annual Innovation Entrepreneur Awards is sponsored by CEA's new flagship publication, It Is Innovation (i3), (launching at the 2013 International CES) and CEA's Small Business Council.
The Innovation Entrepreneur Awards honor excellence in entrepreneurship and recognize visionaries leading businesses with revenues under $30 million, CEA said.
"We had a standout group of finalists for the inaugural year of the Innovation Entrepreneur Awards," said Gary Shapiro, CEA's president and CEO.
"Congratulations to ecoATM and GrandCare, winners of the 2012 Small Business Awards; and to Sandy Gross, winner of the 2012 Small Business Executive Award. Each of the winners epitomizes the entrepreneurial drive and spirit of innovation that powers our industry and the American economy."
To select the inaugural class for the Innovation Entrepreneur Awards, a panel of media and industry professionals met during CE Week to judge the nominees. The judges included: Jim Barry of CEA; Colleen DeBaise of Entrepreneur; Zach Honig of Engadget; Pam Golden-Loder, GLA Communications; Paul Sabbah, Stamford International; Eric Schwartz, Consumer Technology Publishing Group; Steve Smith of TWICE; Steve Tiffen ,The Tiffen Co.; and Gary Yacoubian, Specialty Technologies SVSound.