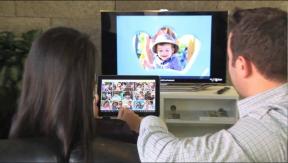 New York — Samsung Electronics will team up Swarovski, the crystal and fashion jewelry brand, to make a splash at Mercedes-Benz Fashion Week in New York, which begins tomorrow.
The two companies have collaborated to create an exclusive backstage Samsung Galaxy Lounge for VIPs and a limited-edition smartphone case adorned with Swarovski crystals for the recently launched Galaxy Note 3.
The Samsung Galaxy Lounge will feature custom sparkling décor, including a Swarovski crystal curtain. "The lounge will host influencers such as models, designers and other celebrities, allowing them space to escape the hustle and bustle of Mercedes-Benz Fashion Week and check out the latest Samsung devices," Samsung said.
Bundled with a matching bracelet, the custom Galaxy Note 3 cover is covered in Swarovski Fine Crystal Rocks and available in three colors: Jet Black, a custom blend of Crystal Bermuda Blue and Crystal Metallic Light Gold, and Crystal Metallic Silver. The bracelet and cover bundle will be available for purchase at the Swarovski retail store at 696 Fifth Avenue in New York for a limited time and will retail for $299.
"At Samsung, we embrace the creativity of fashion and enable it through our technology. Together with Swarovski, we're celebrating that creativity with a specially designed backstage lounge and a limited-edition custom cover for one of our latest smartphones during this season's Mercedes-Benz Fashion Week," said Young Hee Lee, executive VP of Samsung. "The gorgeous, Swarovski crystal-covered cover adds a glamorous touch to the beautifully designed Galaxy Note 3 to make it the must-have device this Mercedes-Benz Fashion Week."
Latest posts by John Laposky
(see all)