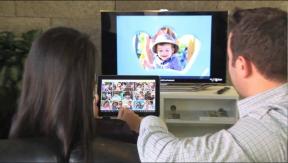 Ridgefield Park, N.J. –– Samsung Electronics said Wednesday its new F9000-series 4K Ultra High-Definition LED LCD TVs in the 65- and 55-inch screen sizes will be available for pre-order beginning July 21.
The new models, which will ship in August at suggested retails of $5,500 and $7,500, respectively, will follow the previously introduced Samsung S9 Ultra HD TV. All present four times the resolution of FullHD 1080p HDTVs.
The new Samsung sets employ the company's proprietary Quadmatic Picture Engine, a 4K up-conversion system featuring a four-step process of signal analysis, noise minimization, Ultra HD up-scaling and detail enhancement to present SD, HD or FullHD content on the Ultra HD-level screen.
Additionally, both the TV and its software can be upgraded for compatibility with future Ultra HD standards by swapping out an Evolution Kit module.
"Revolutionizing the home entertainment viewing experience is a hallmark of the Samsung brand," said Joe Stinziano, Samsung executive VP. "The F9000 series are evolutionary TVs that will give consumers great peace of mind in their entertainment investment. Now home entertainment lovers will have the opportunity to truly see and enjoy their favorite shows and movies like never before, in crystal-clear Ultra High Definition, and in the beautifully designed 55- and 65-inch sizes they demand."
The new models include Samsung's smart-TV technology, including the new Smart Hub interface that organizes entertainment and content into five panels: On TV, Movies and TV Shows, Social, Apps and Photos, and Videos and Music.
Also included is Samsung's S Recommendation feature that helps customers discover new programs to watch. Additionally, a Smart Interaction features allows the TVs to be controlled using hand gestures or voice.
Other features include Samsung's Precision Black Local Dimming technology that delivers increased contrast and black levels by dimming LEDs in dark areas of the picture, making blacks darker without affecting brighter elements of the picture.
The included Micro Dimming Ultimate system combines a special algorithm and scanning technology for sharper images and enhanced contrast.
The new sets will present 3D pictures and include built-in Wi-Fi and an embedded camera for video calls.
The system is powered by a quad-core processor that enables multitasking capabilities between content and apps.
Sound is powered by 70 watts into 2.2 channels, including two-way left and right speakers.
The sets also include Samsung's ultra-slim bezel design, providing a virtually edgeless picture.
Latest posts by Greg Tarr
(see all)