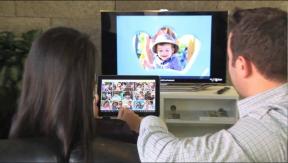 Scarsdale, N.Y. – In what turned out to be a very close vote, Samsung's new flagship F8500 series plasma TV was voted the winner of A/V specialty retailer Value Electronics' 2013 Annual Flat Panel TV Shootout held here last weekend.
The contest pitted a 64-inch version of Samsung's set (model PN64F8500) against Panasonic's newest flagship plasma model the 65-inch FullHD 1080p TCP65ZT60, Panasonic's step-down 65-inch FullHD plasma model the TC-P65VT60, and three LED LCD TVs, including Sony's new 65-inch 4K Ultra HD the XBR-65X900A, Samsung's FullHD 55-inch UN55F8000 and Panasonic's FullHD TC-L55WT60.
Plasma, LCD and 4K Ultra HD models from LG and Sharp were not in the contest, either because unmodified stock models were not yet available or, in one case, was lost in shipping without enough time for proper calibration.
Robert Zohn, Value Electronics' proprietor and self-declared video "enthusiast/businessman," said "The results came out so close that it is difficult to award one winner. The ZT60 won the popular vote in important categories, black and overall [picture quality], but the F8500 had the highest scores overall and also won in important categories, like contrast ratio and day modes. In the past nine years it has always been very clear who won our Flat Panel Shootout event."
According to the vote tabulations, Zohn said attendees "liked the higher light output of the F8500."
"They saw the F8500 as even sharper, which I would assume is also because of the brighter image in low and high ambient light conditions," Zohn explained in a statement announcing the winner. "Many participants told me the F8500 whites looked cleaner, brighter and in their opinion, whiter."
"So the public has spoken and we therefore crown Samsung's F8500 series PDP the new "King of HDTV" for 2013," Zohn said.
Zohn added that the panel of experts, including certified calibrators and testers Kevin Miller founder of TweakTV; David Mackenzie from HDTVTest, and Dewayne "D-Nice" Davis of AVS Forum fame, selected the Panasonic "VT60/ZT60 as their personal choice.
"But even their choice was only a slight preference. As DeWayne put it to me…. `To me and just for example, if the VT60 is a 10 the F8500 is a nine, as I don't care about panel brightness above 30fL,' " said Zohn.
In the end, Zohn recommended consumers make their buying decisions based on their own viewing habits.
"The three top contenders are all so very close this year that I don't see a clear winner and these three panels deserve our top recommendation equally," Zohn said. "In fact, all of the 2013 displays in our event this year are exceptional and have made significant advancements in picture quality, build quality and design. So, my sincerest congratulations to Sony, Panasonic and Samsung for stepping up the game on PDP and LED display technology advancements."
Latest posts by Greg Tarr
(see all)