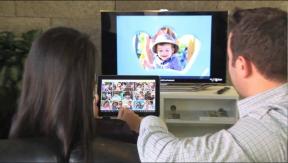 Seoul, South Korea — Samsung Electronics reported double-digit gains in revenues and profits for the third quarter, ended Sept. 30, based on increased sales of cellphones and stronger demand for display panels.
Revenues were 52.18 trillion Korean won on a consolidated basis for the third quarter, a 26 percent increase year on year. For the quarter, consolidated operating profit reached an all-time high of 8.12 trillion won, representing a 91 percent increase year on year, Samsung said.
Consolidated net profit for the July through September period was 6.56 trillion won. That was higher than the consolidated net income of 3.44 trillion won for the prior year's third quarter.
The mobile communications business posted 26.25 trillion won in revenue for the quarter, accounting for more than half of Samsung's total revenue. As for the display panel segment, increased shipments of OLED and LCD panels used in tablets and smartphones, as well as TVs, drove up profitability.
Despite global economic uncertainties, Samsung's end-product and components business units saw sales climb compared with the same quarter last year. Digital media and communications — comprising the consumer electronics and IT and mobile communications business sectors — accounted for 41.90 trillion won in sales, up 41 percent year on year.
For device solutions, operating profits reached 2.29 trillion won on revenue of 17.40 trillion won. The display panel segment outperformed the semiconductor business, in terms of on-year revenue growth.
"The business environment remained difficult with global economic uncertainties persisting amid the fiscal concerns in the US and Europe. However, we continued to break our quarterly profit records," said Robert Yi, senior VP and head of investor relations.
The display panel segment achieved an operating profit of 1.09 trillion won on revenue of 8.46 trillion won. This represented a 19 percent increase in year-on-year sales for the quarter and a swing into profitability compared with the same period last year.
The overall panel market exhibited quarter-on-quarter growth with demand rising 2 percent on the back of new tablet products and emerging market growth, despite delayed demand recovery in developed markets. Shipments of TV panels enjoyed a steady 9 percent increase compared with the second quarter as manufacturers prepared for the year-end peak season, although sales of panels for notebook PCs and monitors remained weak, the company said.
Samsung saw strong growth momentum in the OLED panel segment due to demand for high-end smartphones. Sales of high value-added products, such as LED panels for TVs and LCD panels for tablets, continued to rise. Overall, Samsung's third-quarter TV panel shipments saw year-on-year growth in the mid 10 percent range.
The IT and mobile communications division, comprising mobile communications, telecommunication systems, IT solutions and digital imaging, ended the third quarter with operating profits of 5.63 trillion won on 29.92 trillion won in revenue. Operating profits for the division saw 132 percent year-on-year growth. The mobile unit alone was responsible for 26.25 trillion won in revenue, resulting in an 82 percent spurt in growth compared with the same quarter a year ago, Samsung said.
The global market for smartphones increased in the low 10 percent range quarter-on-quarter, while that of feature phones saw growth of around 10 percent on-quarter. Samsung's flagship Galaxy S III smartphone, along with diverse smart device offerings which encompass high- to low-end products, have been the key drivers in raising profit margins. Improvements in the product mix also led to a more competitive average selling price, Samsung said.
Also in the third quarter, orders for Galaxy Tab variants were strong, as well as the Galaxy Note 10.1, which redefined functionality through its S Pen stylus and split screen feature. Sales of LTE wireless broadband technology equipment picked up in the third quarter but tougher price competition dampened profit margins.
The consumer electronics division — encompassing the visual display and digital appliances businesses — posted revenue of 11.6 trillion won for the third quarter. The operating profit of 430 billion won amounted to an increase of 38 percent compared with the corresponding period last year but was down on the previous quarter.
Due to slowing TV demand during the summer vacation season and economic uncertainty in developed markets, price competition among manufacturers intensified. To deal with these conditions, Samsung maintained profitability by expanding sales of both premium and region-specific LED TV models in developed and emerging markets, respectively.
With peak season demand for TV products in the fourth quarter expected to stimulate on-quarter growth in the mid 20 percent range, the proportion of LED TV sales is also likely to expand. Although competition will intensify, Samsung will continue to focus on improving profitability by increasing its portions of premium products such as large-sized TVs of more than 60 inches, strengthening its smart-TV leadership with expanded content service offerings, and growing its sales of localized LED TV models.