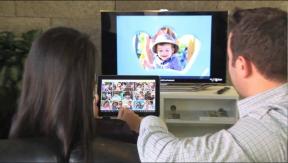 New York — A number of Samsung-branded accessories were unveiled at Thursday's Galaxy S4 launch here, designed specifically to enhance some of the smartphone's new features.
The S Band is a waterproof biometric bracelet that syncs with the S-health 2.0 app preloaded on the S4. It tracks, among many things, steps taken, calories burned, distance traveled and sleep patterns.
Samsung is also offering an S-health blood pressure monitor, an arm strap heart rate monitor (that also works with popular running apps) and a Bluetooth body scale. The S-health app can support up to seven different users in a household.
Wireless charging for the S4 is available with an add-on backplate receiver and pad. Samsung did not disclose whether any wireless charging capability is built into the phone.
A few options for cases are being offered. The Flip is a standard front cover case available in seven color choices. The S View case is basically a Flip with a cutout that reveals a small portion of the screen. When the case is closed, magnets alert the S4 to change its display to a summation of updates, including time, battery life, signal strength and number of new emails and texts, all visible through the cutout. The display turns off after a set time.
The ruggedized Protective Cover+ will also be offered, along with a genuine leather pouch case.
For gamers, the Game Pad fits around the S4 and mimics an Xbox controller with dual analog sticks, shoulder keys and action buttons. It features one-touch Bluetooth pairing via nearfield communication technology.
Also available: stereo ear buds with on-cord phone control and a flat cable for fewer tangles; as well as an extra 2,600 mAh Samsung factory battery with included charging base.
Accessories pricing and availability have not been finalized, Samsung said.
Latest posts by John Laposky
(see all)