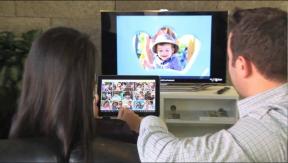 CES 2014 Las Vegas – Samsung Electronics is introducing at International CES two super-capacity laundry pairs and a premium Chef Collection kitchen suite.
The expanded laundry line includes the front-load WF9000 series, a 5.6-cubic-foot washer and 9.5-cubic-foot dryer. The former utilizes a larger drum size and SuperSpeed technology to reduce the wash cycle to 30 minutes, even for extra-large loads like two king-size comforters, the company said.
In addition, the pair was ergonomically designed with 4 inches of additional height, shallower depth and larger doors to enable users to load their laundry without bending, which can lead to discomfort and backaches. Outside, the WF9000s feature a white or onyx finish, chrome detailing and a more decorative control panel design. The series ships this spring.
Within top-load laundry, Samsung is showing what it described as the industry's largest washer and dryer in that configuration. The WA9000 similarly features a 5.6-cubic-foot washer and 9.5-cubic-foot dryer, as well as an EZ Reach washer design, featuring a lower top and a shallower, wider tub that's at least 3 inches wider than comparable models, that puts all areas of the drum within easier reach.
The washer also features proprietary AquaJet cleaning technology that delivers detergent with a concentrated water spray for fast and uniform fabric penetration, while outside the series offers ice blue LED display lights, chrome detailing and stainless platinum and white exteriors. It too will ship this spring.
"Consumer passion fuels Samsung product innovations, and we've become America's fastest-growing appliance brand through a deep understanding of what our consumers need and want in their homes," said Kevin Dexter, home appliance sales and marketing senior VP for Samsung Electronics America. "We are poised for another groundbreaking year."
Moving to the kitchen, the Samsung Chef Collection was developed in collaboration with world-class chefs under the company's Club Des Chefs program to create what the manufacturer describes as "a suite of premium professional chef-level appliances."
The platform includes a four-door, 33.3-cubic-foot refrigerator (model RH9900) and a Food Showcase fridge (model RH22H9010SR); an electric slide-in range (model NE58H9950); an over-the-counter (OTR) microwave oven; and a dishwasher (model DW80H9970). The four-door fridge features a metal cooling plate on the back of refrigerator compartment to help maintain interior temperatures; a lower-right compartment called the Fridge-in-Freezer that can be converted from a refrigerator to a freezer and back again; and Chef Pan, an oven- and dishwasher-safe multi-use container that can be used for marinating and storing food.
The metal-finish Food Showcase model provides practical storage and organizational solutions such as an exterior door compartment that's divided into three zones for cooking items (like cheese and sauces), and a lower kids' level for juice boxes and fruit cups. The refrigerator also includes an interior compartment for longer storage of larger, fresh food items, and a metal cooling guard on the inside of the front door to capture cold air and maintain optimal temperatures.
The range brings back last year's Flex Duo feature — dual compartments that can set to different temperatures — and adds more precise temperature controls and a custom, built-in finish, while the microwave oven features an improved filter that eliminates smoke and odor while cooking, and a premium, streamlined look.
More revolutionary is the dishwasher, which dispenses with traditional rotary spray arms for a linear WaterWall mechanism that moves along the bottom of the tub to provide consistently high water pressure that reaches all cookware, dishes and utensils. The unit also features dual cleaning zones, for normal and heavily soiled contents.
Noted Dexter: "By working closely with Samsung Club Des Chefs, we've created kitchen appliances that offer an awe-inspiring level of flexibility, organization, ease of use and premium style to meet the needs and wants of even the most discerning home cook."
Latest posts by Alan Wolf
(see all)