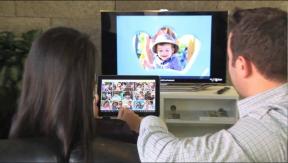 Berlin, Germany – Samsung finally debuted its long-rumored "smart watch," the Galaxy Gear, at the Tempodrom concert hall here during the annual IFA electronics and appliance show, which runs through next Thursday.
The company also unveiled two new stylus-equipped Galaxy Notes, the 5.7-inch Note 3 phablet and the Note 10.1 2014 Edition tablet. Both are the first mobile devices with included leather rear panels, and both are the first mobile devices with 3 GB of RAM.
All three Galaxy devices will go on sale later this month or in October, depending on global market. No pricing for any of the products was announced.
Samsung never referred to the Gear as a "watch" but as a wearable companion to the two new Notes and, with software upgrades, the company's Galaxy SIII and S4 smartphones and the last generation Note II. The Gear weighs 2.6 ounces; its rubberized plastic band and pastel aesthetics will be available in six colors (Jet Black, Mocha Gray, Wild Orange, Oatmeal Beige, Rose Gold and Lime Green).
Technically, the Gear in equipped a 1.63-inch, 320 x 320 pixel, 278 ppi super AMOLED screen, runs on an 800 MHz single core processor, includes a gyroscope, accelerometer and pedometer, 512 MB of RAM and 4 GB of user memory. A single charge provides 25 hours of normal usage from its standard 315 mAh button battery.
In addition to providing standard watch functions – time, timer, stop watch as well as pedometer and weather – and smartphone Bluetooth notifications for incoming messages and calls, the Gear also can operate as a phone and a camera.
When a call comes in, the user simply raises the back of his or her wrist to their ear; the phone senses the movement and activates the earpiece and a microphone embedded in the band clasp.
Users also can also initial calls hands-free, compose messages, create new calendar entries, set alarms, and check the weather on the Gear with the company's voice-command S Voice function.
Located just below the Gear body on the band is a "Memographer" 1.9 MP camera, capable of capturing both stills and 720p video. A user swipes down on the home screen to activate the camera, and a tap takes the photo.
Gear also operates in an emergency alert; three consecutive presses of the power button transmits the wear's location and a message to contacts saved in the watch.
Samsung also has developed a handful of special Gear apps, and have provided developers with the tools to develop more.
Gear will go on sale September 25 in more than 140 countries; it isn't known if the U.S. will be included in the first group of countries.
As expected, Samsung also unveiled its third generation Note phablet, the Note 3, and the similarly-spec'd Note 10.1 tablet.
Both include a number of enhancements the multimedia features included in the Note II, including S Pen, a circular menu pop-up menu produced when the stylus is hovered over the device's screen and the stylus button is pressed. From this menu, users can conduct a universal search, which can include both words and symbols in handwritten content.
Another choice is Pen Window, which enables a user to draw a rectangle on the screen, into which a second app can be booted into what is now an overlaid window from an on-screen menu.
Multi Window has been enhanced to allow the same app to be open in separate side-by-side windows, and content dragged-and-dropped between the two windows.
Samsung has transformed the Group Play multi-audio playback feature in the Galaxy S4 smartphone to Multi Vision in Note 3. Instead of audio, two or more Note 3s can be laid side-by-side to view a multi-screen widescreen video.
Both the Note 3 and the Note 10.1 include Samsung's Knox security software.
Note 3's specs include: 5.7-inch, 1920 x 1080 super AMOLED screen; Android 4.3 Jelly Bean; 2.3 GHz quad-core processor; 13 MP rear camera with LED flash, 2 MP front camera; 24-bit, 192 kHz audio; IR blaster; NFC; 3 GB RAM; 3200 mAh battery, rated for 13 hours and 10 minutes of full HD video watching.
Like the Gear, the Note 3 will go on sale on September 25, but in the U.S. not until later this year from AT&T, Sprint, T-Mobile, Verizon and U.S. Cellular. Also like the Gear, the Note 3 will be available in multiple colors, black, white and "blush pink" plus numerous replaceable back colors.
Other than the larger screen size, there are only minor spec differences between the two Notes. The Note 10.1 is equipped with a lower resolution 8 MP rear camera, and its display measures 2560 x 1600 pixels. Note 10.1 is thinner (7.9mm) and lighter (1.3 pounds) than previous Note tablets, and is scheduled to be available globally sometime in Q3.
Latest posts by Stewart Wolpin
(see all)