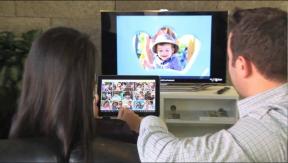 Ridgefield Park, N.J. – Samsung Electronics launched Thursday a Wi-Fi version of its Galaxy Camera that is centered on the Android 4.1 platform.
The Samsung Wi-Fi Galaxy Camera, which ships later this month at a $450 suggested retail, is a point-and-shoot camera with an easy-to-navigate user interface and access to Android applications from the Google Play market.
An earlier version of the camera was launched with built-in 4G LTE support.
"The Galaxy Camera Wi-Fi blends cutting-edge digital imaging technology with Samsung's latest line of class-leading Android devices," said Ron Gazzola, Samsung digital imaging marketing VP. "Focusing on features that simplify the user experience, the Galaxy Camera Wi-Fi offers an intuitive approach to feature-rich photography, without the need to be constantly connected."
Key features include a 21x optical zoom, 16-megapixel backside illuminated CMOS sensor and 4.8-inch HD Super Clear Touch LCD monitor.
With built-in Wi-Fi users can edit photos in camera using a favorite app and then share them wirelessly with family and friends.
The Galaxy Camera's photo interface blends the capabilities of an advanced camera with an easy-to-use touch interface, so users can learn and grow with their photography skills with each use.
The camera's Smart Mode enables fingertip fine-tuning and control adjustments for such settings as shutter speed, aperture and exposure by manipulating sliders on the screen.
The Galaxy Camera also offers a selection of different scene modes to help users define the appropriate settings for a particular scenario, whether they want to capture flowing waterfalls, sports event, and more.
The Galaxy Camera integrates a new Photo Wizard tool, featuring a set of 35 editing features, designed to take advantage of the camera's high-resolution touchscreen.
Additionally, the Smart Content Manager offers organizational tools for photos, with options to create folders and tags.
Samsung's Paper Artist app allows stylizing and editing photos with options to create new images that appear to be sketch-drawings or watercolor paintings.
Latest posts by Greg Tarr
(see all)