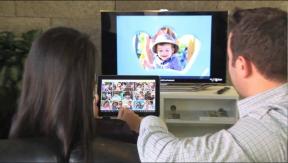 Chicago — Samsung Electronics America said Thursday that it is now shipping its first-ever fully detachable handheld hybrid vacuum and a canister vacuum.
Samsung's VU7000 upright vacuum ($499 suggested retail) and the VC-F700G ($449) are the first to use the company's Motion Sync design.
Both models are being shown at the International Home + Housewares Show in Chicago, March 15-18.
The Motion Sync Design is said to optimize movement during the floor cleaning routine.
Both models were designed to simplify floor cleaning by improving maneuverability — the body swivels separately from the wheels to enable swifter, steadier and more stable control over movement, Samsung said. In the upright model, the design offers four degrees of freedom — up and down, and left and right — for smooth U-turns and S-turns.
The body design of the canister model prevents the vacuum from tipping over and makes it easier to follow behind as the user moves around the house.
Both units also offer what the company called "unparalleled suction power" through a Cyclone Force Multi engine. A series of small cyclonic chambers allows the vacuum to maintain suction power without clogging the filters. The system cleans with consistently powerful and long-lasting suction performance, maintaining peak performance over a longer period of time.
"At Samsung, we believe in creating innovations that make the lives of our consumers easier, and when it comes to vacuums this means superb cleaning performance with the least amount of effort possible," said Kevin Dexter, Samsung home appliances senior VP. "Samsung's Motion Sync upright and canister vacuums deliver just that with advanced design and technology, providing customers with the best possible tools to keep their home beautiful."
The VU7000 features a handheld vacuum with its own motor that can be completely detached from the main upright body to clean hard-to-reach places.
When fully attached to the main body, the vacuum is designed for deep cleaning.
The VC-F700G canister includes a built-in remote-control handle with fingertip controls for quick changes to suction power levels without interrupting the cleaning routine.
Built-in attachments make tools readily available.
Samsung said a variety of accessories are available for the canister model, including a 12-inch power brush and pet accessory brush, as well as special tools such as the Furniture Pro, Window Pro and Stair Pro.
Both units include easy-to-remove HEPA filters that remove more than 99 percent of dust and particles.
The Samsung Motion Sync upright vacuum (VU7000) comes in Titanium Silver and Refined Wine colors.
The Samsung Motion Sync canister vacuum with 12-inch power brush (VC-F700G) comes in Refined Wine.
Latest posts by Greg Tarr
(see all)