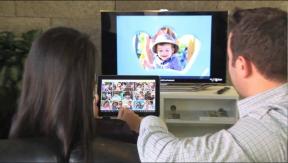 Bloomfield, Conn. — Salamander Designs has teamed up with Leon Speakers to develop a three-channel passive soundbar and a center-channel speaker designed to fit in Salamander's Synergy and Chameleon TV cabinets.
Prices start at $999 for the center-channel speaker. Pricing on the three-channel speaker was unavailable.
Salamander's double-wide and triple-wide cabinets accommodate the three-channel soundbar, and the single-wide versions get the center-channel speaker.
The speakers, available in September, will be displayed at the CEDIA Expo in a shared Salamander/Leon booth.
The speakers are hidden behind cloth grilles when placed in the cabinets, and they come with brackets to angle the speakers up or down to optimize performance.
The speaker option is compatible with all 1998 and later Synergy and Chameleon models. Salamander's cabinets are built to order. Dealers use web tools to tailor cabinets to a particular customer's needs. The cabinet is quick-shipped within days of ordering, the company said.
The Salamander-Leon collaboration isn't the industry's first between a furniture maker and a speaker make. In 2011, furniture maker Bassett teamed up with Boston Acoustics to embed the audio supplier's soundbar technology into a series of Nvelop credenzas for flat-panel TVs.
Bassett launched four wood credenzas priced from a suggested $1,499 to $1,999 through Bassett distribution channels. The credenzas incorporated a Boston Acoustics active soundbar to improve the sound quality of TV programs and TV-connected video sources as well as delivers virtual 5.1-channel surround sound.
Latest posts by Joseph Palenchar
(see all)