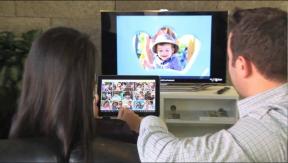 Saratoga, Calif. – Streaming-media hardware manufacturer Roku said Thursday that the Roku Streaming Stick it had unveiled at International CES will go on sale in October at a $100 suggested retail.
The tiny wireless streaming player, which is about the size of a USB flash drive, is designed to plug into an MHL-compliant HDMI port on a TV, Blu-ray player or similar component that conforms to the new Roku Ready specification standard.
The 2-by-2 dual-band Wi-Fi supporting stick will stream the full Roku platform of services, featuring more than 600 channels.
Streaming services carried on the device include Netflix, HBO Go, Flixster, Facebook and others. The company also just announced that Walmart's Vudu streaming service with FullHD support has been added to the services list.
The first Roku Ready supporting devices will hit store shelves this holiday from manufacturer partners including Apex Digital, Hitachi and Insignia (a Best Buy brand).
Other previously announced Roku Ready device manufacturer partners are Element Electronics, GlobalVue International, Haier; Mitsubishi Electric (TVs), Onkyo and Integra, and Oppo (Blu-ray players).
Some of the newest Roku Ready models will include the following:
• Apex Digital LED LCD TV models: the 32-inch LE3243R, 39-inch LE3943R, 42-inch LE4243R and 46-inch LE4643R;
• Insignia LCD TV models: the 46-inch NS-46E480A13A and 55-inch NS-55E480A13A; and
• Hitachi LCD models: the 42-inch LE42S606 and LE42T506, 46-inch models LE46S606 and LE46T506; and 55-inch models LE55S606, LE55T506 and LE55U516;
Roku will sell the Streaming Stick both separately and bundled with select models from manufacturer partners.
When purchased separately, the Roku Streaming Stick comes with a Roku enhanced remote that has volume buttons and motion control for game play.
While the enhanced remote is needed for games that require motion control, consumers can alternatively use the television remote from supporting devices to control Roku Streaming Stick operation.
The Roku Ready platform will enable users to stream pictures and music files from their MHL-compliant iOS or Android smartphones and tablets with an installed Play on Roku app to the TV via the Stream Stick.
Roku said the updated and available app feature essentially turns a smartphone or tablet into a Roku remote control.
Meanwhile, Chas Smith, Roku platform OEM business senior VP and general manager, said the addition of Walmart's Vudu service to the platform will bring more than 100,000 on-demand streaming video titles to Roku users.
The service is available now on all Roku 2, Roku HD (model 2500) and Roku LT streaming players in the U.S. and will be added to the Roku Streaming Stick in October.
Content will be playable in up to 1080p HD quality with Dolby Digital Plus 5.1 and 7.1 surround sound.
A la cart movies on Vudu are available the same day they are released to DVD or Blu-ray, and can be purchased or rented without a subscription.
Latest posts by Multichannel Staff
(see all)