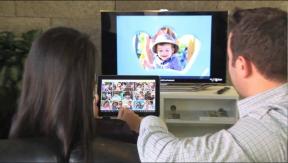 Hoffman Estates, Ill. — Sears has begun rolling out mobile point-of-sale devices to its stores nationwide to help speed up the checkout process this holiday season.
The devices, variously used by Costco, The Home Depot, Stop & Shop supermarkets and other retail chains to shorten check-out lines, allow customers to make purchases from anywhere in the store with a credit or debit card. Receipts can be printed, emailed, or both.
The rollout of the handheld devices follows the deployment of 500 tablets to Sears and Kmart sales associates. The tablet test features a special shopping app that allows staffers to check inventory availability, access product information and videos, and conduct sales. Circuit City piloted a similar program within its small-format The City stores in 2008.
In a variation of the easy checkout theme, Target plans to showcase the top 20 toys on the main aisle of its stores beginning Oct. 14. The toys will have a QR code that customers can scan with their mobile devices to purchase and ship anywhere in the U.S. at no cost.
Sears and Kmart have also temporarily suspended layaway service fees, and, beginning Nov. 7, customers can have their online layaway purchases shipped to their homes. In addition, the chains will offer prizes, loyalty rewards offers and stocking-stuffer sales throughout the holiday period.
Parent company Sears Holdings said it has added the shopping enhancements to take advantage of an expected 3.3 percent increase in U.S. retail sales this holiday season, according to ShopperTrak.
"Sears and Kmart will win this holiday season because we provide best-in-class layaway options, new in-store mobile experiences for added convenience, exclusive products … and weekly holiday sales for our customers," said Ron Boire, executive VP/chief merchandising officer and president, Sears and Kmart formats.