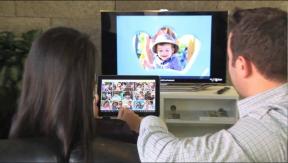 Calgary, Alberta — Apple could gain worldwide smartphone share in the second half because of the lack of innovation in high-end smartphones introduced at the Mobile World Congress (MWC), investment research company Canaccord Genuity concluded.
Canaccord found that a host of new Android LTE smartphones introduced at MWC displayed a "relative lack of innovation" and that "all the high-end Android smartphones looked similar and offered mostly the same types of features." Samsung's Galaxy S5, for example, "is another solid product for Samsung but more incremental to the Galaxy S4 than a compelling upgrade," Canaccord said.
As a result, "given the lack of differentiated Android smartphone devices, we believe Apple could gain market share during [the second half and the 2014 calendar year] as new iPhones and iPads with larger screen sizes could create a strong upgrade cycle among its loyal base." The company cited the global popularity of larger-screen smartphones and tablets as a key reason. In the U.S., Canaccord also cited the impact of current subscribers reaching the end of their two-year contracts in the second half.
The company explained that "certain carrier upgrade policies were more strictly enforced and adversely impacted the near-term uptake of the increasingly popular early upgrade or smartphone leasing type of plans." Based on consumer surveys, "we anticipate stronger take-up rates for these plans once current subscribers reach the end of their 24-month contracts," the company said. "Given strong iPhone and iPad customer loyalty, we believe a new larger-screen iPhone and iPad should create a very strong upgrade cycle in North America, especially given the timing of grandfathering in two-year plans and globally given the popularity of larger-screen smartphones and tablets."
Latest posts by Joseph Palenchar
(see all)