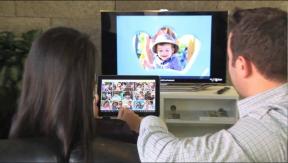 Las Vegas – Digital Stream will go to International CES with an 8-inch RCA-brand Android tablet that incorporates a standard over-the-air ATSC DTV tuner and a mobile-DTV tuner, which is compatible with encrypted Dyle TV mobile-DTV broadcasts.
The $299-suggested RCA Mobile TV Tablet, available in the spring, will be the industry's first dual-tuner mobile TV, the company said.
Consumers who are stationary would use the tablet to receive free, standard over-the-air local-TV broadcasts from any local DTV station. In a moving vehicle, consumers would use the tablet to receive free Mobile DTV broadcasts designed for on-the-go reception. More than 130 TV stations broadcast mobile-optimized programming. That includes more than 90 Dyle-affiliated local stations in more than 35 markets reaching 53 percent of the U.S. population.
Besides letting users watch live local TV, the RCA DMT580D device also operates as a fully functional high-definition Android touchscreen tablet with Wi-Fi, dual cameras and GPS functionality, said the company, which already markets stand-alone mobile-DTV receivers.
The 1.4-pound tablet features 8-inch HD (1,024 by 768) in-plane switching touchscreen, Wi-Fi 802.11b/g/n , Cortex A5 1GHz processor, 1GB of RAM, 8GB of onboard flash memory, built-in telescoping antenna, front and rear cameras, dual speakers and integrated GPS. There are USB, MicroUSB, MicroSD and HDMI ports. It also accesses the Google Play store.
Battery life is up to four hours in Mobile DTV mode or up to 10 hours for web browsing.
TV functions include real-time signal strength display, onscreen program information display, digital closed captioning, language settings, auto channel scan and a favorite channel setting.
Dyle TV was established by the Mobile Content Venture (MCV), a joint venture of 12 major broadcast groups that have adopted the industry-standard ATSC-Mobile format for mobile-DTV broadcasting. Members broadcast free ATSC-Mobile programming using proprietary encryption, but the Dyle-compatible phone will also receive unencrypted ATSC-Mobile from other TV stations if available. The group eventually plans a mix of free and subscription TV programming.
The tablet will be the latest consumer device to receive Dyle TV broadcasts. Other products include Elgato and Belkin dongles that turn iPads, iPhones and iPod Touches into Dyle-compatible mobile DTV receivers. Radar-detector supplier Escort also offers an adapter for Apple's mobile devices and has announced plans to offer a dongle for Android devices.
Another Dyle TV-compatible product is Samsung's Galaxy S Lightray 4G Android smartphone, which is sold by no-contract carrier MetroPCS in the 15 markets where it operates its cellular network.
More Dyle TV products are on the way, including an aftermarket in-car Dyle TV tuner under development by Audiovox.
Latest posts by Joseph Palenchar
(see all)