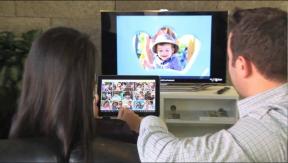 Raleigh, N.C. — Alco Electronics is introducing the RCA Internet Music System combines Internet streaming capability, traditional CD and FM radio playback, and even Bluetooth and HDMI connectivity to other devices.
The system, available now at Walmart stores and online from RCATablets.com, has a suggested retail of $199.
The RCA Internet Music System (model RCS13101E) combines a 7-inch Android tablet and a bookshelf stereo unit and is compatible with most popular Android music and video apps, the company said.
The system allows users to stream their favorite audio entertainment from the Internet, view and listen to online videos by connecting a TV, and even take the Android control tablet to another room to be used independently or control the system's speakers.
"The RCA Internet Music System bridges the gap between a streaming tablet device and the stand-alone shelf music system. With the combination of a quality tablet and a premium sound system, the consumer gets the best of both worlds. The tablet can be used for individual enjoyment independent of the sound system, or it can be wirelessly paired to the powered sound system to fill the room with music or a TV or movie soundtrack. Best of all, it's an affordable option for consumers wanting a device that can play CDs, stream Internet music, surf the Internet and play online video content," said Stephen Jorge, U.S. retail sales VP for Alco Electronics, the licensee for RCA-brand tablets and audio products.
The system allows users to wirelessly enjoy Internet music via Bluetooth 2.1, while also checking email, browsing the web or downloading apps from the Google Play Store. It includes HDMI output for viewing online video and also has a built-in CD player, FM radio, and connections for playing content stored on USB drives or SD cards, the company said.
Other features include a removable 7-inch multitouch LCD touchscreen tablet compatible with Google Play; Android 4.2 OS, 4GB of onboard memory, Wi-Fi compatibility, dual-core processor, and two 20-watt ported two-way stereo speakers.