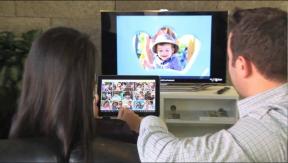 Sales for the three months, ended June 30, edged up 1.2 percent to $953.2 million, and comp-store sales were essentially flat.
In a statement, RadioShack president/CEO Jim Gooch acknowledged that the business performed below expectations during the period, citing a disappointing gross margin rate.
"The initiatives we have under way" — which include new merchandising, marketing and expansion strategies — "have not yet generated enough momentum to improve the trend," he said. "Our primary operating focus continues to be on stabilizing gross margins and aggressively managing our cost structure."
One bright spot was the company's core mobile business, sales of which rose 3.3 percent at company-operated stores thanks to increased tablet and postpaid wireless volume.
"We saw incremental improvement throughout the quarter as we successfully connected with our customer base and drove sales growth in this key category through effective promotions and the expansion of our Target Mobile centers," Gooch said.
Nevertheless, a mix shift toward lower-margin smartphones negatively impacted gross margin, the chain reported.
Elsewhere, sales within the legacy consumer electronics category fell nearly 27 percent, and "signature" sector sales, comprised of accessories and headphones, were flat.
Gooch said the company continues to have a strong balance sheet, with total liquidity of $910 million. To maintain it, RadioShack plans to suspend its shareholder dividend and will use the excess cash to pay down half of its $375 million in loans due August 2013, and will refinance the rest.
Looking ahead, Gooch said, "We remain confident that our strategic initiatives will generate sales growth, improve gross margins and drive long-term growth."
The initiatives, detailed last spring, include a renewed focus on the mobile and accessories categories, a new marketing campaign to highlight the chain's broad wireless assortment, and new ventures and partnerships both domestically and abroad.
"These initiatives remain on track," Gooch said, "and we expect them to drive improvement through the remainder of this year and gain further traction as we enter next year."
Yesterday UBS analyst Michael Lasser downgraded RadioShack from "neutral" to "sell," citing an unclear strategy, an "overloaded" product assortment, and key executive vacancies following last month's resignation of chief merchandising officer Scott Young and the departure of chief marketing officer Lee Applbaum in March.
Latest posts by Multichannel Staff
(see all)