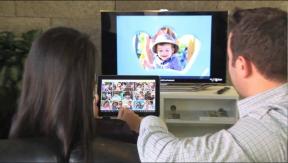 New York — RadioShack has opened a new store prototype here that features live, interactive displays and merchandises key products by brand.
The new store format, first announced in April, is part of a sweeping turnaround plan by CEO Joseph Magnacca and his new management team that also includes a fresh marketing slant, a revamped assortment and new distribution strategies.
The company said the remodeled store, which opened Saturday at Broadway and 81st Street in Manhattan's Upper West Side, is designed to inject fun and excitement into the shopping experience, as reflected in the company's new "Let's Play" tagline.
To that end, products from core brands and carriers including AT&T, Apple, HTC, Samsung and Verizon are highlighted within dedicated displays, while redesigned fixtures allow customers to more readily find, compare and test-drive products.
For example, a new wireless speaker wall lets shoppers demo different models by playing music from their own Bluetooth-enabled mobile devices, while a live display for the chain's GoPro cameras demonstrates the capabilities of multiple models.
The store also features touchscreens and apps to further explain product benefits, while a retrained staff delivers what RadioShack promised is "a new level" of service that sells the whole assortment rather than focusing aggressively on mobile sales.
RadioShack plans to open a number of variously configured prototype stores over the next several weeks in the New York metro area, New Jersey and Texas that are customized to each location's footprint, local buying patterns and neighborhood needs. The pilot stores will serve as learning labs as the company refines the format for what it described as "a new generation of stores" that will be rolled out throughout the U.S. and internationally over the coming months.
"We will fine-tune the concepts people are seeing here today," Magnacca said, "and by making the experience a fun one for the consumer, with the right mix of products, placement and price, we expect be able to build the trajectory of RadioShack's growth and profitability."
Early reviews have been positive. In a research note, Janney Capital Markets analyst David Strasser observed during an informal visit that the Apple-like store returns the merchandising focus to CE from wireless, and that the format could play a key role in reversing the company's multiyear sales and profit declines.
"This new store is a merchant's interpretation of what RadioShack could and should be," Strasser wrote. "The store is much more shoppable, far superior at explaining the products it sells, and provides greater flexibility to shift merchandising as products emerge and fade away. All critical to long-term returns in this business."
Latest posts by Alan Wolf
(see all)