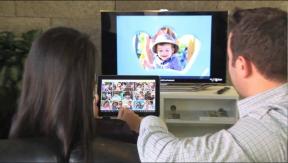 New York – RadioShack will open a 1960s-themed store in Midtown Manhattan on Saturday, the second of its "custom concept" formats in the country.
The new shop, located on East 42nd Street, adjacent to Grand Central Station, pays homage to the 1964 World's Fair in Queens with a hanging Unisphere; 1960s art, colors and materials; and videos that evoke the event.
The retro elements are paired with RadioShack's recent concept store upgrades, including a Blutooth-controlled speaker wall; interactive displays for headphones, cameras and remote-control toys; and a brand-focused layout.
The store is the 12th concept location in the New York metro area, and the second retro-themed location following the format's debut near RadioShack headquarters in Fort Worth, Texas, last fall. That store commemorates the company's history with historical videos, retro products, old company logos, and a recreation of a ship's communication center, or "radio shack," from which the chain took its name.
The opening coincides with this weekend's planned Super Bowl XLVIII across the river in New Jersey, and attendant festivities in nearby Times Square.
Latest posts by Alan Wolf
(see all)