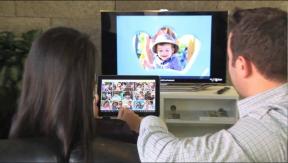 Fort Worth, Texas — RadioShack's management said the company's disappointing fourth-quarter results were impacted by a series of unique circumstances that masked its turnaround progress.
On an earnings call, CEO Joe Magnacca ticked off a litany of holiday-season setbacks as well as strategic initiatives designed to return the chain to profitability.
He said the quarter was marked by bad weather, fewer shopping days, intense promotions, and three senior hires — covering the critical merchandising, sourcing and inventory planning functions — who have been on the job less than 120 days.
Magnacca also blamed himself for trying to accomplish too much too soon, which overextended the company's capabilities. In one instance, an overzealous effort to rationalize duplicative and unproductive products resulted in the loss of 100 still-profitable SKUs, he said.
The CEO also acknowledged that RadioShack was in worse shape than he thought when he assumed the helm one year ago, and has taken longer than anticipated to bring up to speed. "The starting point was lower than expected," he conceded, which required "rebuilding fundamentals and basic retailing operations" as well as an entirely new management team.
Without diminishing the gravity of the situation, Magnacca and chief financial officer John Feray, who joined the company in January from Dollar General, stressed that much progress has already been made. They also predicted improving sales trends throughout the year as new product introductions, better in-stocks, additional store remodels, more "disruptive marketing" like the high-profile Super Bowl commercial, and new sourcing initiatives and vendor collaborations gain traction.
Feray said management will also focus on cost reductions that won't impact the customer experience and will help put the company on "the path to profitability." Those include taking certain advertising functions in house, reducing shrinkage company-wide and improving marketing and inventory allocation efficiency.
He said the shuttering of as many as 1,100 underperforming stores will begin either this quarter or the beginning of the next, pending amended loan terms that currently limit store closures to 200 per year, and a maximum of 600 through 2018. Inventory liquidations would cover the cost of any early lease terminations, Feray said, and renegotiated rents could reduce the number of closures.
Magnacca noted that some markets are "oversaturated and overstored," and pointed to the eight RadioShack locations within five miles of his own home in Fort Worth.
Feray added that the company has sufficient liquidity to see it through the year, and in response to an analyst's question about RadioShack's viability, suggested its powerful brand, industry-leading sales associates, and strong management team and turnaround plan were inducements to join last month.
"I think there's a great opportunity for this business to succeed," he said.
Latest posts by Alan Wolf
(see all)