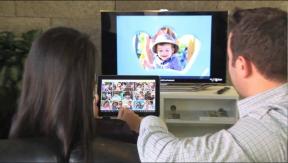 Chicago – ProSource, the specialty A/V and custom-install division of the BrandSource buying group, concluded a series of high-level e-commerce meetings here earlier this month.
The gatherings brought ProSource members together to brainstorm key digital shopping issues, including conversion optimization, social media, consumer acquisition patterns, e-commerce trends and the evolving mobile shopping experience.
"The changing face of retail is something that members need not only embrace, but also to understand completely," said Dave Workman, president/CEO of ProSource. "This two-day meeting allowed ProSource to outline best practices and will help members optimize e-commerce and the mobile shopping experience."
During the sessions, members also discussed social media's influence on the commerce experience, and left armed with valuable insights on how to improve their online operations.
"The exchange of ideas, especially around mobile and user experience, is where [we] garnered the most takeaways," said Dave Weisman of Huppin's/OneCall. "The importance of social marketing to drive retail store awareness was not far behind."
ListenUp's Phil Murray agreed. "E-commerce is moving at a lightning pace. The ProSource meeting was a great opportunity to share the latest trends and strategies to enable members to stay at the forefront of the industry."
Crutchfield's Todd Cabell added, "These meetings provide a unique and valuable forum for discussing today's rapidly changing online environment with other CE retailers."
Other attendees included Kris Dybdahl of Bjorn's; Jay Figliolino of Electronics Expo; ProSource's Andy Orozco, ProSource; Dan Syme of Hi-Def Lifestyle; Lolly Walker of ListenUp; David Keith of Huppin's/OneCall; Ann-Marie Hosler of Starpower; Sergio Rodrigues and Evan Winokur of Talk of the Town; Wes Froebel and Nick Pirk of Stereo Advantage; and Emily Cole, Fern Rutberg and Bill Hettinger of World Wide Stereo.
Latest posts by Alan Wolf
(see all)