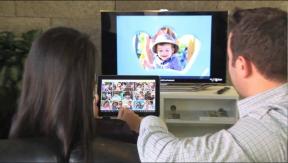 Petaluma, Calif. – Proficient Audio has begun shipping the final models in its redesigned 31-SKU Protégé series of custom-install speakers, which now feature a thin-bezel design to blend in better with walls and ceilings.
Each speaker in the updated series offers the same acoustical and electrical designs as its predecessor and installs like its predecessor, but the new versions eliminate the visible flange around the grille. The brand chose this route so dealers wouldn't have to get used to new models, "especially since they like our signature sound so much already," said Keith Marshall, senior VP of channel management at Core Brands. "There's nothing new for the dealer to learn." The installation procedure is basically the same, and the model numbers are almost the same as before, he explained.
The lineup consists of 18 in-ceiling speakers, 10 in-wall speakers, two in-wall subwoofers and a ceiling subwoofer. The speakers include a single-point stereo ceiling speaker, an in-wall LCR with dual 6.5-inch woofers, and a subwoofer with dual 8-inch drivers.
The speakers feature magnets molded into the back side of the front baffle to ensure the magnets don't fall off, the company said. Many suppliers of thin-bezel speakers glue magnets to the front of the baffle, but sometimes the magnets become un-glued, Proficient said. As a result, a gap opens between the wall and the grille, and sometimes the grille falls off.
Latest posts by Joseph Palenchar
(see all)