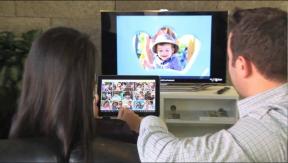 Long Beach, Calif. — Pioneer will offer an audio/video receiver this year with built-in HDBaseT technology, which ships an HDMI signal up to 328 feet over thin, inexpensive CAT cable to an HD display, the company told TWICE.
Pioneer is the first component-audio supplier to confirm plans for such an AVR.
Pioneer displayed an HDBaseT-equipped AVR at the InfoComm booth of the HDBaseT Alliance, but Pioneer declined to specify a price, specs, number of HDBaseT outputs or specific ship date. A spokesman did say an AVR with the technology would be available this year but declined to specify if more than one AVR would become available.
HDBaseT technology is capable of sending HD video sources through a single 100-meter (328-foot CAT-5e/6 cable along with multichannel digital audio, Internet, control signals and up to 100 watts of DC power, the Alliance said.
Current AVRs with HDMI outputs could be connected to expensive HDMI matrix switchers costing thousands of dollars to extend the HD video signal over long distances.
A still-lower cost option is to use an HDBaseT transmitter and receiver pair with an AVR. Their retail prices range from about $200 for low-cost models sold on-line to about $350 to $500 for "quality units," HDMI switcher company HydraConnect told TWICE.
To build HDBaseT into a consumer product such as an AVR, the cost of adding a transmitter that delivers power over the CAT cable "would probably add some $50 to $65 [to the manufacturer's cost] in the kind of low volume I would expect such a product to reach," HydraConnect said. That would translate into a consumer price starting anywhere from $100 to $150, although a high-volume product with a minimum of 2,000 to 4,000 units per month would be about 30 percent 40 percent less, said the supplier, who pointed out that his estimates "are just good-faith estimates based on virtually no information on the product."
Pioneer became an alliance member early this year. Onkyo is also an alliance member along with video-projector suppliers such as Hitachi, NEC and Epson and video matrix-switcher suppliers. Aquavision at InfoComm unveiled a flat-panel TV with built-in HDBaseT.
HDBaseT passes through full-HD/3D and 4K uncompressed video and supports all key HDMI 1.4 features, including EPG, CEC, EDID and HDCP, the alliance said. HDBaseT also passes audio in all standard formats, including Dolby Digital, DTS, Dolby TrueHD and DTS HD-Master Audio. The technology also supports 100MB Ethernet and multiple control signals, including Consumer Electronic Controls (CEC), RS-232, USB and infrared.
The HDBaseT 2.0 spec was ratified last week to offer additional features.
Latest posts by Joseph Palenchar
(see all)