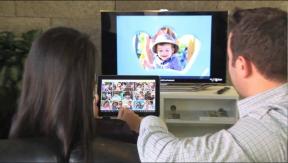 CE Week New York – Pioneer is going to this week's CEA Line Show to launch its first speaker bar in about 15 years and top out its Elite A/V receiver series with three new models, including the industry's first AVR with built-in HDBaseT output.
Pioneer's top-of-the-line Elite AVR at a suggested $3,000 includes HDBaseT , which will let users send HDMI video, multichannel digital audio, and power up to 100 meters to a remote audio and video system over inexpensive CAT5e and CAT6 cable. HDBase T transmits 1080p, 3D, and 4K video up to 100 meters, whereas an HDMI cable is rated only for 5-meter distances with no amplifier, said Chris Walker, director of director of AV marketing and product planning for Pioneer's home entertainment division.
HDBaseT is ideal for use in newer homes with installed CAT5e/6 wiring for an Ethernet network, he noted.
The 9.2-channel Elite SC-75, SC-77 and SC-79 AVRs will be available in July at suggested retails of $1,600, $2,000 and $3,000, respectively. Pioneer's SP-SB23W Speaker Bar will be available in the fall at a suggested $399.
Pioneer's original amplified speaker bar in the late 1990s sat on top of tube TVs and rear-projection TV sets. The new 2.1-channel model, developed by well-known speaker engineer Andrew Jones, features Dolby Digital decoding, built-in stereo Bluetooth, wireless subwoofer, a learning mode to make it respond to a user's existing remote, and three sound modes: music, movies and dialogue. Dialogue is a late-night mode that optimizes dialogue conversations and significantly reduces the level of loud passages, the company said.
Details of the bar's jack pack were unavailable.
The soundbar features a curved wood cabinet, four 3-inch woofers, two 1-inch soft dome tweeters, one amplifier per driver, and an eight-channel active digital crossover network to widen off-axis response, deliver higher power handling, and increase dynamic headroom, the company said.
The use of wood "makes a significant difference when it comes to sound quality," Walker said, because of its resistance to unwanted resonance. The RF-molded curved enclosure withstands the "flexing" that occurs, especially at high volume levels, producing improved audio, he added. The six speakers are arranged in a way to produce a wide dispersion pattern, delivering more spacious stereo imaging even in larger sized rooms, he noted. And the 1-inch soft-dome tweeters are built into a custom wave guide to boost output sensitivity and control high-frequency dispersion.
Amplification is rated at 168 watts at 1kHz with 1 percent THD for the main drivers plus 50 watts at 50Hz with 1 percent THD for the 6.5-inch wireless subwoofer. The sub is tuned to 42 Hz (-10 dB), and its output level can be adjusted from the bar's included remote.
Using an active crossover network enables the use higher order cutoff frequencies and steeper roll-off slopes "to achieve improved audio transitions between the woofers and the tweeters," thus allowing for improved speaker response, vocals and off-axis listening, the company added.
The three new four-zone Elite AVRs replace a trio of models, with two matching their predecessors' pricing and the top $3,000 model going up $500 in price because of the addition of new features, including HDBaseT. The latter added about $200 to the price, Walker said.
New features in all three include upscaling of analog and digital video to 4K by 2K UltraHD resolution. Their predecessors featured 4K by 2K passthrough.
Other new features in all three include 192kHz/32-bit audio scalers, 5.1-channel operation simultaneous with two powered stereo zones, high-end ESS SABRE32 Ultra DAC, and MHL 2.0 connector, which replaces an earlier MHL version to support 1080p 60 fps, 3D and faster cellphone charging.
The three also add playback of Apple Lossless, AIFF, and DSD files from networked computers and USB drives, joining playback of FLAC, and WAV, and DSD files from those sources. Gapless playback is also new on these models for networked computers and USB drives.
Compared to its predecessor, the $3,000 model also adds such features as 5.6MHz DSD (DSD128) playback from USB sources, joining 2.8GHz DSD playback. Compared to the other two 2013models, the $3,000 model adds USB 32-Bit Asynchronous Audio DAC, which was available in the predecessor model.
The top model's HDMI complement consists of two simultaneous HDMI outputs for two separate displays in the same zone, a zone 3 HDMI output, and the fourth-zone HDBaseT output.
Like their predecessors, all three new AVRs feature a 9.2-channel implementation of DTS Neo:X post-processing, Apple AirPlay, DLNA 1.5 networking certification to stream from PCs and mobile devices, Class D3 amplification for extremely high output with virtually no background noise, THX certification, and THX Loudness Plus, which automatically rebalances bass levels as volume is lowered.
The AVRs also feature Pandora and vTuner audio streaming and HTC Connect, which simplifies Wi-Fi streaming from HTC smartphones and improves reliability.
Like before, the AVRs accept optional Wi-Fi and Bluetooth dongles.
The $1,600 model is THX Select2Plus certified, and the other two are Ultra2 Plus certified. The top two are also Air Studios Monitor certified, indicating collaboration with London's Air Studios Recording facility to develop technologies that bring studio-level quality to the home, Pioneer said.
Latest posts by Joseph Palenchar
(see all)