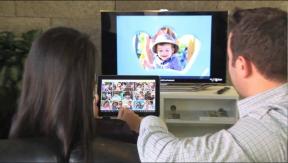 Atlanta – Philips unveiled some of the industry's first tabletop docking speakers with Apple's new eight-pin Lightning connector.
A quartet of docking speakers shipping this month from the company will dock with the iPhone 5, fifth-generation iPod Touch, and seventh-generation iPod Nano to play back their music and charge them. The speakers are not designed for use with the Pad Mini or fourth-generation iPad.
For its part, JBL has already shipped one of two Lightning-equipped docking speakers, and Bang & Olufsen plans in-store availability in the coming weeks of its first Lightning product. More docking speakers with Lightning connectors will be launched at International CES by additional companies.
Philips' Lightning products consist of a docking music system, two docking speakers, and a bedroom docking speaker with clock.
The DCM2067 Lifestyle music system is a flat, vertically oriented stand-mounted FM/CD player with retractable Lightning dock. It delivers 20 watts of output. Its price hasn't been announced.
The $129-suggested DS7580 portable docking speaker features a bar shape but is slim enough to fit in a purse. Playback time is about eight hours on its internal battery. Features include Philips's Woox technology to deliver deep bass.
The $129-suggested DS3205 room-to-room docking speaker is a ring-shaped AC/DC model. And the $89 DS 1155 Bedroom docking speaker features 360-degree design to deliver omni directional sound in a bedroom. It features a clock that automatically synchronizes with the clock of the docked Apple device. The speaker also includes a USB port at the back to charge other mobile devices.
The first Lightning-equipped speaker on the market is JBL's Lightning-equipped $99 OnBeat Micro, which is available in Apple stores and Best Buy. JBL's $199 OnBeat Venue LT is on its way to stores, the company said.
For its part, Bang & Olufsen said that by the end of next week, it will begin shipping from Denmark a previously announced Lightning module for its $1,149 BeoPlay A8 docking speaker, whose modular 30-pin connector can be removed by users and replaced with the Lightning module. The Lightning module will be free to existing A8 owners. At the same time, B&O will begin shipping from Denmark new BeoPlay A8 models with both types of connector modules in the box, B&O USA president Zean Nielsen told TWICE.
The A8 is designed for iPods, iPhones and iPads, and it also features AirPlay.