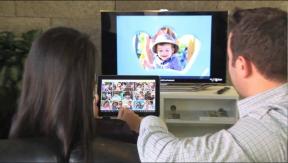 Edmond, Okla. — Petra Industries held its 11th Annual Car Audio Expo Sunday, April 21, here, with retailers seeing demos of new mobile A/V products.
The Expo included A/V receivers, DVD players, speakers, CD head units, navigation systems and accessories, subwoofers and much more from the 26 industry-leading manufacturers exhibiting, the distributor said.
This expo also included a unique opportunity for attendees to see Denny Hamlin's FedEx NASCAR car. Dealers had the opportunity to take photos with the car and purchase exclusive Denny Hamlin FedEx NASCAR gear.
Manufacturers in attendance included Atrend, Bazooka, Blue Parrot, Boss, Boyo, Clarion, Cobra, CrimeStopper, DB Drive, Directed Electronics, Dual, Magellan, PAC, Parrot, Pioneer Electronics, Planet Audio, Power Acoustik, RE Audio, Scosche, Scytek, SiriusXM, Soundstorm, Whistler and Wilson.
"Attendance at our Car Expo has grown every year and this year was no exception," said Tate Morgan, president of Petra Industries. "It's such a great opportunity for our dealers to interact with our vendor partners and see some of the newest products coming to market. With the success of this year's Expo, we're confident that next year's show will be even bigger and better."
The Car Audio Expo also enabled attendees the chance to shop exclusive same-day show specials and attendees shared some friendly competition with the always-popular Dealer Olympics, which included the subwoofer toss, creeper and frozen t-shirt races, Petra said.
All attendees were registered for a multitude of prizes with a special grand prize drawing that included a Sharp 40-inch HDTV, a 7-inch Kindle Fire, a Brinkmann electric smoker, a Pioneer in-dash navigation A/V receiver and more.
Headquartered in the Oklahoma City metropolitan area for more than 28 years, Petra carries more than 20,000 products from more than 500 manufacturers. For more information on Petra, visit Petra.com or call
(800) 443-6975.