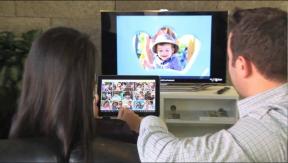 Mountain View, Calif. – Second-screen app developer Peel said Monday that owners of Samsung Galaxy devices preloaded with the Peel Smart Remote TV app can provide real-time user generated feedback during the 2012 presidential debates.
Starting on Oct. 3, viewers using the Peel Smart Remote app on the Samsung Galaxy Tab 7.0 Plus, Tab 7.7, Tab 2 7.0, Tab 2 10.1 or Note 10.1 with built-in IR blaster will able to use the app to switch the TV channel to any of the available stations showing the debate.
Throughout the debate, users will then be able to "cheer" and "boo" candidate responses to voice their support for or against.
Immediately following each presidential or vice presidential debate, Peel said it will provide the sentiments expressed from thousands of viewers based on their in-app feedback.
The data and analysis will be provided directly to users who register their email addresses, and will also be published on Peel's Facebook page at Facebook.com/PeelTV.
Among the activities the Peel app will provide during the debates are the following:
• tap to "cheer" and "boo" for President Obama and Mitt Romney;
• view aggregated sentiments of all participants;
• know which candidate viewers believe won the debate;
• see which issues received the most passionate feedback;
• understand current sentiment in critical swing states; and
• donate to the Obama or Romney campaigns through the app.
Peel said the information provided by users will not be shared with anyone and will only be published in aggregate form.
The Peel Smart Remote App is preloaded on the five aforementioned Samsung Galaxy devices. For all other mobile devices, the Peel app is available for free to download at Google Play and the iTunes App Store.
The new functionality, which is accessible directly within the app, is enabled via a free update that is available now from the Android Play store.