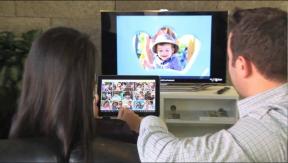 Irvine, Calif. — Paul's TV & Appliances is rolling out majaps to its far-flung furniture chain outposts.
The Southern California-based specialty retailer currently operates home theater shops within some 40 furniture stores across seven states to leverage that channel's burgeoning business, after recently closing 14 locations in Michigan.
So far white-goods have been added to 12 in-store A/V shops in California, Massachusetts and Colorado, and another seven to 10 locations will receive them this year, president/CEO Babak Ghaznavi told TWICE. Eventually all locations will carry majaps, he said.
Ghaznavi embarked on the in-store strategy three years ago in a move that presaged Best Buy's highly-touted branded shops and the entry of h.h.gregg and other CE/majap dealers into the furniture category.
Founded in 1964 by the self-declared "King of the Big TV" Paul Goldenberg, the company operates seven Paul's TV superstores in Southern California, and established a coast-to-coast footprint by leasing space from Living Spaces Furniture in California; Jordan's Furniture in New England; Art Van Furniture in Michigan and Ohio; and Furniture Row in Colorado.
The expansion hasn't been without its setbacks: the retailer recently closed 14 of its 32 Art Van shops due to underperformance within certain Michigan markets. "It wasn't an easy decision," Ghaznavi said, "but the stores weren't making money and we have to protect the health of the organization to ensure growth."
But the company also opened a new Art Van store-within-a-store in Toledo, Ohio; added three shops to Living Spaces; will open two more in-store boutiques this quarter; and recently opened its seventh Paul's TV showroom, in Huntington Beach, Calif.
Ghaznavi's furniture partners are providing additional floor space to accommodate the expanded assortments, which now include more than 80 appliance SKUs in addition to the existent 60 TV models. No CE products were sacrificed to make room for the majaps, he noted.
Ghaznavi, a former Good Guys executive and 2012 winner of The Anti-Defamation League's American Heritage Award, added that Ultra HD TV is beginning to gain traction – "I'm having a hard time keeping some models in stock," he said – and anticipates big business in the advanced displays when pricing hits more mainstream levels next year.
Paul's TV is a member of the Nationwide Marketing Group, which it joined in January, and ranks 47th on TWICE's Top 100 CE Retailers list with $180 million in electronics sales last year.
Latest posts by Alan Wolf
(see all)