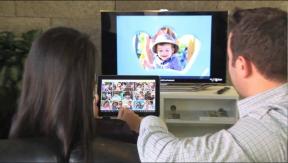 Newark, N.J. — Panasonic officially unveiled Thursday the Lumix GX7 Micro Four Thirds mirrorless compact system camera.
The Panasonic GX7, which is a follow-up to the GX1 introduced a couple of years earlier, features a 16-megapixel Micro Four Thirds Live MOS sensor and, for the first time in the G-series line, built-in sensor-based image stabilization with the ability to default to G-series lenses with built-in OIS.
The GX7, which will be available in September for a $999 suggested retail for the body only or $1,099 for a bundle with a 14-42mm lens, offers a 90-degree 2,764,000-dot tilting LCD electronic viewfinder and captures video at up to 1080/60p FullHD resolution.
Other features include a Venus Engine Image Processor, a 3-inch 1,040,000-dot tilting touchscreen monitor, FullHD 1080/60p capture in AVCHD format, a Mega OIS in-body image stabilization system and support for G-series lenses with OIS, built-in wireless connectivity with support for nearfield communications (NFC) tap linking, focus peaking and magnification windows, and a magnesium-alloy body with a retro silver and black cosmetic body design.
The 16-megapixel sensor has been completely re-engineered, making it 10 percent more sensitive than the previous-generation chip.
The new Venus engine image processor has also been enhanced to improve in-camera noise reduction.
The camera offers a range of advanced autofocus and manual focus options, including built-in customizable focus peaking in live view, and Pin-Point autofocus that enables setting magnification from 3x to 10x. A One-Shot AF setting sets rough focus on the subject and then lets the photographer manually refine the focus for tricky situations.
The camera's AF system is said to be able to zero in on a focal point as far down as -4EV.
Panasonic includes Creative Control mode with 22 filter effects and extensive control over each filter. A Creative Panorama function allows users to shoot horizontal or vertical panoramic images from consecutive shots. Multiple images are stitched together in the camera to create a single, wide panoramic view.
In a related announcement, Panasonic introduced the Leica DG Nocticron 42.5mm/F1.2 lens, which is billed as "the fastest interchangeable lens in the Micro Four Thirds standard for the Lumix G-series cameras."
Previously, Panasonic has marketed interchangeable lenses meeting Leica specifications, including the Leica DG Summilux 25mm/F1.4 ASPH and the Leica DG Macro-Elmarit 45mm/F2.8 ASPH/Mega OIS.
The name "Nocticorn" was defined by Leica Camera AG for the lens type continuing Leica's elements of large-diameter, high-quality lenses.
The Leica DG Nocticron 42.5mm/F1.2 achieves the fastest1 F1.2 for a Micro Four Thirds interchangeable lens, becoming the first large-diameter, high-performance Nocticron lens.
Latest posts by Greg Tarr
(see all)