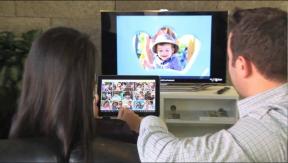 Newark, N.J. — Panasonic unveiled Tuesday its first Ultra HD 4K/30p wearable camera, model HX-A500.
Panasonic said it designed the A500 wearable camera so users can simply shoot and enjoy sharing high-quality action video.
The tiny video camera features built-in Wi-Fi and NFC to connect to a phone.
It will be available in the U.S. at the beginning of July at a price to be announced later. The camera will be carried through photo specialty retailers and Shop.Panasonic.com.
The A500 features a two-piece configuration, with the lens unit separate from, but tethered to, the main unit. The lens unit weighs just more than 1 ounce.
The design allows for easily mounting the lens at face level for hands-free shooting and greater comfort.
The newly designed main unit includes a built-in LCD monitor.
Images can be quickly and easily uploaded to the Internet via a smartphone or tablet.
Panasonic will offer a new head mount and armband case. The head mount is supported in three places: at both ears and at the back of the head to increase support and make wearing the camera feel more comfortable and natural.
The armband-style case is durable, and the flip-top design makes it easier to put in and take out the main unit.
The camera includes a variety of optional accessories, such as a clip mount, multi-belt and multi-case.
The camera is waterproof for 30 minutes in nearly 10 feet of water, and dustproof.
The 4K/30p video resolution provides four times the resolution of FullHD. The new lens, sensor and image engine also achieve greater sensitivity.
Panasonic said shooting 4K and 30 fps allows for smoother motion videos, enabling crisp and clear video on large screens.
The camera lens offers an ultra-wide angle of view, up to 160 degrees.
The camera also offers high-quality low-light using a 1/2.3-inch backside illuminated sensor to produce less noise in images shot indoors, at night, or in dimly lit conditions.
A Crystal Engine Pro+ image processing system was designed to handle super-resolution 4K video.
Other features include tilt correction and image stabilization. Available in FullHD images and standard resolution, Panasonic's exclusive Level Shot and Image Stabilizer functions allow capturing smooth fast action sequences.
Slow-motion video playback is possible using selectable resolution and frame-rate adjustments. High frame rate capture is possible in three resolutions: 1,920 by 1080 pixels at 60 fps, 1,280 by 720 pixels at 120 fps, and 848 by 480 pixels at 240 fps.
Video can be played back in slow motion, either for effect or to check out a golf swing or the form of another fast action.
An available Image App will enable highlighted scenes to be easily edited in one clip and uploaded to internet after shooting with automatic selection of highlighted scenes.
The camera will also enable real-time broadcasting via Ustream.
Latest posts by Greg Tarr
(see all)