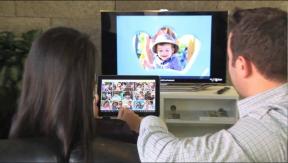 New York — Panasonic has introduced a 20-inch 4K Windows 8.1 tablet that will ship in the U.S. in January for $6,000.
The Toughpad 4K UT-MB5 is expected to be the first commercially available Ultra High-Definition tablet. It will be initially targeted at photographers, architects, marketers and salespeople.
The display has a resolution of 3,840 by 2,560 and a 15:10 aspect ratio. It can be used with a supplied stylus. The screen can "feel" 2,048 pressure levels, allowing it to be used for sketching.
This Toughpad is a fully functional tablet powered by an Intel Haswell Core i5-3437U vPro 1.9GHz processor. Other features include Nvidia GeForce 745 graphics, 4GB or 8GB of RAM, and a 256GB solid-state drive. It has a USB 3.0 port, SDXC card slot and a docking connector for the optional cradle.
Latest posts by Doug Olenick
(see all)