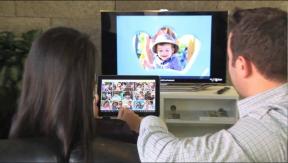 Osaka, Japan — Panasonic will highlight 4K and other consumer and B-to-B technologies during Internationale Funkausstellung Berlin 2013 (IFA), to be held Sept. 6-11 at Messe Berlin in Germany.
At IFA 2013, under the theme of "A Better Life, A Better World," Panasonic said in a statement it will exhibit its latest products and technologies, organized in five groups:
Concept Stage: Better Living Tomorrow with the Cloud: Panasonic said it will show its A/V equipment to home appliances, presenting "a concept for a more convenient and comfortable lifestyle of the future, realized through the utilization of Cloud technologies."
4K Products and Solutions: A wide range of 4K solutions that utilize Panasonic's in-house 4K technologies and latest products will be on display, including what the company described as "the world's thinnest and lightest 20-inch 4K tablet and prototypes of its 4K OLED panel, produced through the company's unique printing method of production."
Digital AV: An interactive exhibit will let users experience the convenience of personalized TV suited to their lifestyle provided by the Smart Viera My Home Screen function. Panasonic said it will also exhibit its latest imaging products that introduce the benefits of connectivity with smartphones and tablets. It will focus on the new Lumix GX7 and will also present its latest Blu-ray Disc recorders and wireless audio products.
Home Appliances: In the cooking appliances area, features such as IR sensor technology will be introduced through live demonstrations and tasting events. Washer/dryers equipped with the company's steam technology will be on display, as well as personal care products.
B2B Solutions: Panasonic said it will introduce its work in the field of B-to-B solutions, such as its Cloud monitoring service. Other B-to-B exhibits will demonstrate systems for eco-friendly vehicles and energy-related systems for the home.
Latest posts by Steve Smith
(see all)