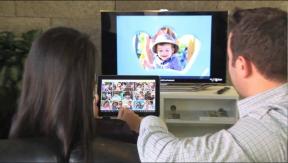 Newark, N.J. — Panasonic declared its intentions to defend its share of the U.S. market from a host of new Ultra High-Definition TV players by giving the press an up-close look at its just-launched 65-inch L65WT600 Ultra HD edge-lit LED LCD TV.
The set, which is available now at a $5,999 suggested retail, packs a host of cutting-edge features, including HDMI 2.0 (supporting 4K/60p resolution) and Display Port 1.2a input jacks, and an advanced up-conversion system that the company believes will set it apart from the competition.
During the demonstration, at Panasonic's new eco-centric headquarters, here, the company put the new model up against similar 65-inch Ultra HD sets from Sony and Samsung for side-by-side comparisons.
The L65WT600 includes 2000Hz backlight scanning (BLS) Motion Clarity, local dimming for enhanced black levels, and THX 4K certification.
Also added is an HTML5 "4K web browser" with built-in 4K video decoding to present images in 3,820 by 2,160 resolution.
Panasonic's up-conversion system is powered by a Panasonic semiconductor chipset to render video, still images and internet graphics in Ultra HD resolution. Most competitive models only process content from the web browser at 1080p, Panasonic said.
The up-conversion system, which also processes content from a built-in SD card slot and USB port, takes HD and SD level material and compares it against 120,000 data patterns at up to 20 million times a second to up-convert sub-4K material to fill the Ultra HD screen with high-quality images, Panasonic executives said.
In side-by-side demos with Sony and Samsung sets, the L65WT600 offered subtle advantages in up-converted material, particularly content displayed in the built-in web browser.
Using Panasonic-supplied demo material, the set appeared to have more natural colors in native content and fewer edge artifacts in up-converted images.
The HDMI 2.0 port will accept 3,820 by 2,160/60p video, although in the near term that will be limited to Ultra HD camcorders and cameras. There is a possibility that future Ultra HD broadcasts with 60 fps rates will be available, Panasonic said.
The DisplayPort 1.2a jack will allow consumers to directly connect a PC to the TV, which is important to for video production professionals and gamers.
The company said that Panasonic builds 4K decoding into its set to handle incoming content, where competitive models rely on external devices to do the heavy lifting.
Panasonic executives said the company is working on having HEVC H.265 compression decoding added to the set, but agreements with standards bodies aren't ready yet. It will support AVC H.264 today.
Other features in the L65WT600 include the My Home Screen user interface introduced in other 2013 Panasonic models, voice-controlled remote, and a built-in camera with facial recognition to support such services as Skype.
The set features a silver super-narrow bezel design in line with Panasonic's 2013 TV styling.
Latest posts by Greg Tarr
(see all)