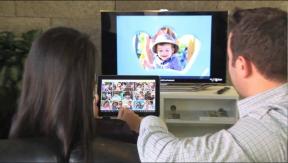 Orlando, Fla. – Optoma this week unveiled its first 7,000 lumen projector, the EH7700, in addition to a 6,000 lumen model (X605) as part of a 17-model projector rollout for 2013.
Optoma's new projectors were unveiled at the recent 2013 InfoComm.
The dual-lamp, WUXGA-resolution EH7700 will ship in July at a $9,999 suggested retail, and features the ability to use both 350W P-VIP lamps at once for maximum brightness or separately to maximize lamp lifespan and reduce energy use. Supported control systems include: Crestron, Extron, AMX, PJ-Link and Telnet LAN.
AV ports include two HDMI, two VGA in and one out, RGBHV BNC, RCA component, S-video, and composite. Network and control ports include RJ-45 and RS-232C.
Three other high-brightness models will ship in August and range in price from the 10,000:1 contrast ratio, XGA-resolution X605, the WXGA resolution W505 (priced at $2,799), to the WUXGA resolution EH505 ($3,499).
All three feature 3D capability.
Optoma also revealed the 501/401 series projectors, with models offering up to 1080p resolution and 4,500 lumens of light output.
Six 501 series projectors, which are designed for conference and board room use, feature three models with 4,500 lumens and 15,000:1 contrast dynamic contrast ratio models including: the EH501 ($1,699), with native FullHD 1080p resolution, the WXGA resolution W501 ($1,599), and the XGA X501 ($1,499). Al will ship at the end of the month.
Two 401 series projectors, which are designed for conference room applications, feature 15,000:1 dynamic contrast ratios, and include the WXGA, 4,200-lumen W401 and the XGA, 4,000-lumen X401. The pair will ship in July at suggested retail prices of $1,099 and $999, respectively.
Key features in both 401 series models include: IP and RS-232C system control, 3D compatibility; and an 8-watt audio system.
Meanwhile, the EH300 projector will be available at the end of June for $1,299, offering FullHD 1080p resolution, 3,500 lumens of brightness, and an onboard 16-watt stereo speaker system. Inputs include two HDMI, a VGA, a 3D VESA port, composite video, and two audio inputs. Network and control systems are handled by RS-232C and USB-B ports.
Among the most portable units in the offering were LED-based models including the 3-pound, 1,000-lumen ML1000 and less-than-a-pound 550-lumen ML550.
Latest posts by Greg Tarr
(see all)