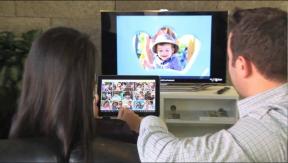 Upper Saddle River, N.J. — Onkyo is launching its first active soundbar and first TV-speaker base.
They join a 2.1-speaker home-theater system in the Envision Cinema series of products, which are designed to deliver home-theater audio with simple set-up.
The LS-B50 soundbar with wireless subwoofer, and LS-T10 speaker base with integrated subwoofer, are scheduled to ship in September at suggested retails of $699 and $499, respectively.
The systems also double as music systems, given the presence of stereo Bluetooth and USB ports, which play audio from smartphones, tablets, and mass-storage devices.
Both models feature Dolby Digital 5.1 decoding, one optical input, one coaxial input, and one analog input.
Like the current $499 LS3100 2.1-speaker system in the Envision series, both models are preprogrammed with the IR codes of nine major TV brands so that they can be controlled from the TV's remote. Both also come with their own remote.
Both new models also feature six-channel amplifier and proprietary AuraSphere DSP, said to expand the traditional audio sweet spot from directly in front of the TV to throughout a room, the company said. The technology manages equalization and sound pressure levels in real time to create a "realistic 3D immersion field" from PCM stereo and Dolby Digital audio sources, the company added.
The soundbar features six full-range drivers, two ring-radiator tweeters, and wireless subwoofer, while the speaker base features a total of six full-range drivers and an integrated subwoofer.
Three sound modes optimize playback of different audio content. News Mode cleans up and projects dialog more intelligibly, the company said. Movie Mode enhances the impact of movie soundtracks, and Music Mode delivers more balanced sound across the frequency range.
The soundbar features two 1 3/16-inch ring tweeters, six 2.75-inch midrange drivers, and a 6.5-inch wireless subwoofer. Output is 40 watts into 4 ohms. It comes with wall-mounting kit and IR flashers for flexible placement options.
The speaker base features six 2.75-inch fill range drivers in front and on the sides and a 5-inch downfiring sub. Wattage output was unavailable.
Latest posts by Multichannel Staff
(see all)