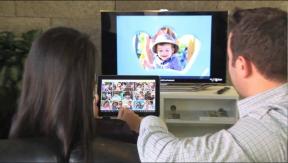 Berlin — Nyne is exhibiting at the IFA show here to launch its first three portable Bluetooth speakers with nearfield communications (NFC) pairing and Bluetooth 4.0 with auto-connect.
The Nyne Bass, Nyne TT and Nyne Cruiser portable Bluetooth speakers feature 3.5mm auxiliary input, built-in microphone with hands-free calling, built-in USB charging of a mobile device, eight to 10 hours of playtime on their rechargeable batteries, and availability in black, silver, red and white.
They ship in the fourth quarter.
The $149-everyday Nyne Bass is the largest of the speakers, delivering 20 watts of output power through its 4,400 mAh battery. It measures 13.5 inches by 7 inches by 6.25 inches.
The $129-everyday Nyne TT is a lighter model with carrying strap. It delivers 16 watts of output through its 2,200 mAh battery. It measures 10.2 inches by 2.25 inches by 6 inches.
The $79 Nyne Cruiser clips onto a bike's handlebars or onto a stroller or exercise machine. It delivers 10 watts of output through a 2,200 mAh battery. It measures 5.7 inches by 3.25 inches by 3 inches.
A fourth Bluetooth speaker is the $49 Nyne Mini, which features Bluetooth 2.1, no NFC, 3.5mm aux-in, 5 watts of output, built-in microphone, about five color combinations, and a 2,200 mAh battery delivering six hours of playback. It measures 5 inches by 2.5 inches by 2.25 inches.