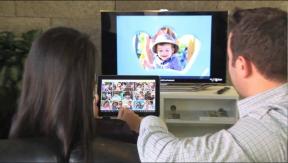 Denver – More than 440 high-end audio companies are turning up to exhibit here at the three-day Rocky Mountain Audio Fest (RMAF) consumer show, which wraps up on Sunday.
Multiple companies will use the show to unveil new products, including the DEQX Mate audio processor from DEXC, three Bel Canto 24-bit/192kHz USB Link Converters, Indy Audio Labs's Aragon Iridium Monoblock amplifier, and headphones and headphone cables from Alpha Design Labs.
DEXQ's $4,495 two-channel DEQX Mate Processor corrects for distortion produced by speakers and adds room compensation, the company said. It corrects frequency-response errors as other units do but also corrects for timing errors by adjusting thousands of frequency groups so they arrive at the same time to listeners, the company said.
The analog in-and-out processor sits between a power amp and a preamp, home theater processor, or receiver. It incorporates many features in the flagship HDP-4 preamp processor. Features include multiple balanced (XLR) and single-ended (RCA) analog inputs and outputs and a new Zero Earth Leak High Isolation power supply. It integrates one or a pair of subwoofers into the system.
From Indy Audio Labs, the Aragon Iridium Monoblock amplifier is the flagship amp in a new lineup from the recently revived Aragon brand. The Iridium-Left and Iridium-Right Monoblocks are priced at a suggested $3,999. The company's 8008 Dual Monoblock amp is also $3,999. The Iridium replaces the Aragon Palladium.
Indy Audio Labs is also showing its Acurus A2007 7-channel THX Ultra2-certified home-theater amplifier, released earlier this year. It's also available in two-channel and five-channel versions
For its part, Bel Canto is launching three new asynchronous USB Link Converters to deliver better-than-CD performance from computer-stored music. The entry-level $395 mLink, the $695 uLink, and top-of-the-line $1,495 REFLink isolate the music signal — and clocks — from the noisy electrical environments of computers and music servers, the company said. They convert the USB output of a PC to ultra-low jitter S/PDIF to a consumer's DAC. All three USB Link Converters feature native MAC USB 2.0 compatibility, a custom Windows USB 2.0 driver, and ability to operate at 16 or 24 bits at 44.1, 48, 88.2, 96, 176.4 and 192kHz sampling rates.
Headphone and headphone-amp supplier Alpha Design Labs is unveiling its H118 headphones and iHP-35 headphone cables.
Latest posts by Joseph Palenchar
(see all)