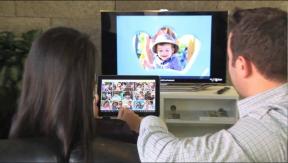 Chicago – New Age Electronics, the national IT, CE and gaming distributor, kicked off its second annual Executive Dealer Summit last night here at the Intercontinental Hotel.
The three-day event was created to give New Age's retail customers a competitive edge by providing product showcases, industry insights, educational sessions and one-on-one meetings with key vendors.
This year's Summit will have a particular focus on Windows 8, which is expected to fuel PC demand this holiday season. Special sessions addressing Microsoft's latest OS update will include an interactive "All-Star Panel" moderated by TWICE senior editor Alan Wolf and featuring NPD Group VP Stephen Baker, Hewlett-Packard VP/GM Stephanie Dismore, Microsoft GM Felicia Guity, Intel sales manager Eric Eshaghoff, Acer VP Scott Ledterman, and Synnex president Peter Larocque.
New Age launched the Summit last night with a welcome reception featuring blues guitarist Johnny Hawthorne, who has performed with such bands as Everclear and Toad the Wet Sprocket.
Latest posts by Alan Wolf
(see all)