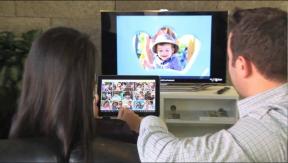 San Jose, Calif. — Netgear today introduced two new network-attached storage (NAS) devices, the ReadyNAS 100 and 300.
With these releases Netgear is taking its next step in simplifying its design and branding, said Matt Pahnke, the company's senior marketing manager for storage. The company is giving a common name to its consumer and small-business NAS models along with using a single new operating system across the line.
"We came to realize that our naming methodology was confusing, and we were running three operating systems in the product line. With this launch we want to eliminate all that confusion for both the consumer and reseller," Pahnke said.
Previously, Netgear's consumer line contained the Stora and Duo lines, but these names will be dropped, the company said.
Pahnke said the basic setup and user interface have also been simplified to help what remains as one of NAS's most sticking problems: customer frustration with installation.
The general setup is web-based with the user typing in one URL, which will allow the computer being used to discover the drive. A button on the drive is then pressed to sync the two devices. This process is repeated for all the computers on the network, Pahnke said.
The ReadyNAS 100 will come in two varieties: the RN104 and RN102. Both use the Marvell Armada 370 1.2GHz processor and have a single USB 2.0 port, two USB 3.0 ports and 512MB of memory. Each drive bay is capable of handling up to 4TB, each using either a 2.5-inch SATA or 3.5-inch solid-state drive.
The 104 comes with four drive bays and two Gigabit LAN ports. The 102 has two 4TB drive bays.
The ReadyNAS 100 will start at $199 and is shipping now.
Each also comes with Netgear's ReadyDLNA media streaming. This allows content stored on the drive to be sent to game consoles, smart TVs and mobile devices.
The ReadyNAS line also has remote backup and restore using Apple's Time Machine, a first for the industry the company stated.
The ReadyNAS 300 is geared more for the small business market. There are three sub-models, the two-bay 312, four-bay 314 and the six-bay 316. All use Intel's dual core Atom 2.1GHz processor, have 2GB of memory and two Gigabit LAN ports.
Pricing starts at $449, and the models are now shipping.