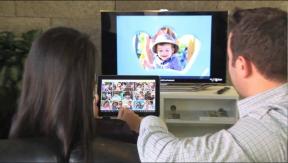 San Jose, Calif. – Netgear introduced Thursday its Push2TV wireless display adapter (PTV3000), which enables wirelessly mirroring a laptop, smartphone or tablet on a TV screen.
At the same time, Netgear also introduced three next-generation set-top boxes, designed to bring streaming multimedia services to TV sets. Highlighting the trio is the next-generation NeoTV Max, which adds DLNA support and a newly designed QWERTY-keypad enabled remote.
The new Push2TV wireless display adapter supports Intel Wireless Display (WiDi), and is said to be "pre-standard compliant with the Wi-Fi Alliance's Miracast specification."
Both WiDi and Miracast allow a Wi-Fi connection to be used to deliver audio and video content from one device to another, without cables or a connection to an existing Wi-Fi network.
The Push2TV adapter will connect to a TV wirelessly to transmit up to FullHD 1080p video and 5.1 surround sound audio. The PTV3000 (available now for a $60 suggested retail) is a third the size of the previous PTV2000.
It can be powered by a USB port but also comes with a power adapter.
The three new NeoTV streaming players are among the first to support the HTML 5 standard in addition to HLS, and digital rights management tools like Microsoft PlayReady to to hundreds of HD streaming channels.
The streaming players — NeoTV NTV300 ($50 suggested retail), NeoTV Pro NTV300S ($60) and NeoTV Max NTV300SL ($70) — are available now and will bring access to such services as Netflix, Vudu, Hulu Plus, YouTube, Best Buy CinemaNow, Pandora, Rhapsody and others.
Video content can be streamed in up to FullHD 1080p and 5.1 Dolby Digital surround sound and have built-in Wi-Fi connectivity and wired Ethernet support.
The NeoTV Pro NTV300S offers WiDi support to wirelessly display a PC screen on a TV and adds an A/V port that enables the NeoTV Pro to be connected to older TVs without HDMI inputs.
The NeoTV Max NTV300SL adds the NeoTV Pro the ability to play personal media from external hard disk drives, USB drives and DLNA media servers. It includes the aforementioned QWERTY remote and supports 3D streaming movies from Vudu.
An optional free remote-control app for all NeoTV devices is available for download from Google Play or from the Apple App Store to turn an Apple iPhone, iPad, iPod Touch, Android smartphone or tablet into a simple touchscreen remote control.
Netgear said it is also including with the NeoTV devices through the end of the year for Disney's "Wreck-It Ralph" (in theaters beginning Nov. 2), an arcade-game-hopping adventure, and is introducing a nationwide sweepstakes for a movie-fan prize pack with a chance to win a trip for four to Los Angeles for a tour of Walt Disney Animation Studios and four tickets to a theatrical release of every Disney movie in 2013.