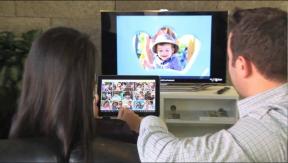 Omaha, Neb. — Louie Blumkin, son of Nebraska Furniture Mart founder Rose Blumkin and head of the family business for nearly 40 years, died Tuesday night. He was 93.
Blumkin is credited with building his mother's fledgling furniture store into the largest home-furnishings emporium in the nation. He also arranged the sale of a majority interest to billionaire Warren Buffett's Berkshire Hathaway in 1983.
Blumkin ran the company as president after his return from World War II, where he landed on Omaha Beach, fought in the Battle of the Bulge and helped liberate Dachau.
Sales topped $150 million in 1988 when he handed the company's reins over to his sons Irv, now CEO, and Ron, now president.
Rose died 10 years later at the age of 104.
Blumkin supported numerous local organizations, including the Henry Doorly Zoo, Gene Mahoney State Park, the Rose Blumkin Jewish Home, Creighton University and the Ronald McDonald House, as well as many Jewish and fine arts groups throughout the country.
A memorial service will be held 11:30 a.m. on Friday at Beth El Synagogue, 14506 California St. in Omaha. Memorial donations may be made to The Rose Theater, Attn: Omaha Theater Company, Julie Walker, 2001 Farnam St., Omaha, NE 68102; and the University of Nebraska Foundation, Nebraska Neuroscience Alliance, 2285 S. 67th Street, Suite 200, Omaha, NE 68106.
Latest posts by Alan Wolf
(see all)