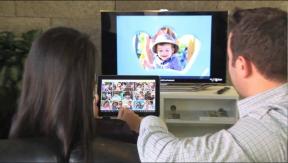 Las Vegas — The Nationwide Marketing Group is evolving its merchandise mix and back-office operations and is encouraging its membership to do likewise.
That was the main message at the group's biannual PrimeTime! meeting and convention, held here this week at the Venetian and Sands Expo under the banner "Blueprint for Success."
Thanks to the first-time participation of both its NECO and Canadian Cantrex divisions, the event is the largest in the $14 billion group's history, with 325,000 square feet of exhibition space and some 5,000 attendees, including more than 1,200 dealer members.
But despite a slowly improving business climate, Nationwide's management team is urging its more than 3,500 independent dealers to embrace new technologies like wireless connectivity and home automation, and to plug into the digital infrastructure that Nationwide has developed to support ordering, merchandising, marketing, rebate tracking, training, in-store digital signage and other key retail functions.
The latter is provided through a central intranet platform dubbed MemberNet, which has been updated with a more robust and user-friendly database for digital signage. The signage program feeds vendor videos and custom clips to individual stores, and can even track in-store views by gender.
The update, which goes out in the second quarter, will also include a bilingual feature to accommodate Cantrex's French-speaking members.
Perhaps the biggest news out of the show is the rollout next month of an in-store tablet program that sales associates can use to help combat showrooming. The 10-inch tablets are supplied by Toshiba, partly funded by vendors, preloaded with Nationwide software, and will be made available to dealers at "well under" $200 per unit, explained senior appliances VP Jeff Knock.
The goal, he said, is to arm all 10,000 member storefronts with the mobile devices, which will provide detailed product information including reviews, demos and price comparisons with rival merchants. Freed from three-ring binders and fixed terminals to answer customer questions, associates can use the sales tool, dubbed Info-Pad, to circumvent showrooming and improve close rates, he noted.
About 2,500 tablets will be available at rollout, although Nationwide can ramp up quickly to meet demand. The tablets are not transactional, but the group is looking to add POS functionality in the future, Knock added.
On the merchandising side, the advent of mobile-controlled majaps and ubiquitous device connectivity will compel both TV and appliance dealers to sharpen their skill sets in order to remain competitive in a rapidly changing retail environment.
"We can't just sell panels and audio," observed electronics senior VP Tom Hickman. "We're working hard to get our members to diversify the mix with home automation and not only sell legacy TV."
To that end, Nationwide has added home-control providers Key Digital and Control4 to its vendor ranks through its Specialty Electronics Nationwide (SEN) integrator division, and hopes to share the wealth with its mainstream rank and file. "Whoever owns the home-automation space will own everything we sell," stressed SEN executive director Jeannette Howe. "We need to usher our CE and appliance people into this arena. The connected home is something that e-tailers and other retailers can't do."
Backing up her words with actions, Howe and two SEN associates trained for and passed Control4's certification program, and are now accredited level-one installers for that platform. They also plan to attain Key Digital certification, in order to be Nationwide's "ambassadors" for connected technology.
"This is our future," Howe said, "and without it we will get left behind."
Latest posts by Alan Wolf
(see all)