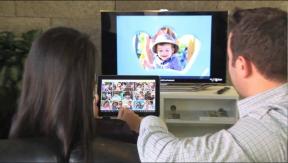 El Segundo, Calif. — MXL Microphones, a division of Marshall Electronics, has announced a line of cellphone- and tablet-compatible microphones for mobile audio and video recording.
The Mobile Media series, or MM series, is agnostic in design, working with iOS, Android and Windows devices as well as most mobile devices with a 3.5mm jack, the company said.
The MXL MM-VE001 mobile videographer's essentials kit, an audio for mobile video solution, will be the first product to ship. It consists of an FR-310 shotgun microphone, an impedance-matching cable with 3.5mm plug and a fully adjustable bracket mount. The cable allows the FR-310 to deliver an audio signal to the phone for audio-only recording or audio for video recording. It is said to enable steadier video and directional audio pickup on mobile videos.
Four other microphone models will follow: the MM-110 boundary mic, the MM-120 desktop electret condenser mic, the MM-130 handheld electret mic, and the MM-140 battery-powered condenser mic.
The MM-130 handheld electret microphone is designed for interviews on the go, improving the quality of sound bites to be used for broadcasts or podcasts, MXL said.
The MM-110 tabletop boundary microphone is designed to record meetings or interviews of multiple people.
The MM-120 and MM-140 condenser desktop microphones are designed for recording vocals or instruments on mobile devices for podcasting or scratch recording.
All MM microphones will have removable, replaceable cables.
"Cellphones and tablets are growing in both numbers and types of applications," said MXL sales and marketing director Perry Goldstein. "They are much more than just phones. MXL Mobile Media microphones give users the choice of multiple mics that are each designed for specific mobile applications."
The MXL MM-VE001 will be available in September, followed by the MM-130 in late 2013. Suggested retails are as follows: MXL MM-VE001 mobile vdeographer's essentials kit, $189.95; MM-110 boundary mic, $89.95; MM-120 desktop electret condenser mic, $89.95; MM-130 handheld electret mic, $99.95; and MM-140 battery-powered condenser mic, $199.95.