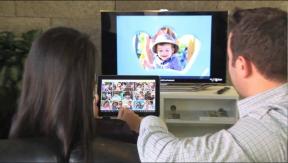 Elmont, N.Y. – Morel will add to its Octave series of home speakers with the April shipment of the three-way Octave 6 floor-standing speaker and two-way Octave 6 bookshelf speaker at a suggested $6,500 and $3,500/pair, respectively.
The speakers will join the Octave Signature, which comes with three-way configuration when upgraded with a subwoofer.
Next year, the company plans to expand the Octave series with the Octave 5 floor-standing and Octave 5 bookshelf with a matching center channel and a subwoofer for home theater applications, said Nir Paz, director of sales and marketing.
The Octave 6 models represent an evolution of the Octave Signature and incorporate technologies from the company's reference speaker, the Fat Lady. Compared to the Signature, the Octave 6 speakers add such improvements as 6.5-inch woofers instead of 5.25-inch woofers and a new "no-damping" cabinet design to deliver "more natural and transparent sound reproduction." With the design, a new vertical baffle with acoustic apertures placed within the enclosure breaks up standing waves. "This allows the cabinet to vibrate along with the drivers output in a highly controlled manner, resulting in a remarkably transparent speaker performance and natural open sound," the company said.
The crossover topology is inspired by the flagship speaker, the Fat Lady, "to ensure seamless integration and accurate sound presentation," Paz added. In addition, a patented Lotus grille minimizes the horn effect that grilles have on sound, he said.
In another major difference, the Octave 6 speakers integrate a subwoofer, midrange and tweeter into one cabinet. The Octave Signature speaker was a modular system that let consumers add on a subwoofer module to convert a bookshelf speaker into a floor standing.
New mid-bass drivers use an oversized 3-inch aluminum voice coil over a titanium base, and the tweeter use the company's 1.1-inch Acuflex soft dome.
The new speakers are said to be "amplifier friendly" to work with tube and solid-state amps.
Latest posts by Joseph Palenchar
(see all)