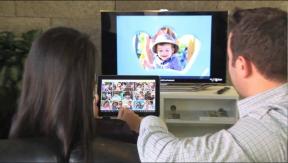 New York — The Consumer Electronics Association today announced a host of new details about January's 2014 International CES in Las Vegas.
Keynote addresses by Yahoo CEO Marissa Mayer and Cisco chairman John Chambers, a full roster of CES SuperSessions, a new High-Res Audio Experience TechZone, and an expanded focus on apps at the show were detailed by CEA CEO/president Gary Shapiro and Karen Chupka, events and conferences senior VP, at the annual CES Unveiled New York event here.
Mayer's keynote is slated for 1 p.m. on Tuesday, Jan. 7, 2014, in the LVH Theater. Chambers' keynote is slated for 4:30 p.m. of the same day in the Venetian's Palazzo Ballroom.
Chambers will be sharing his company's vision for the "Internet of Everything," which is the networked connection of people, processes, data and things, CEA said.
Both addresses are be part of the Tech Titans keynote series, where CEOs from the most powerful companies in technology present their vision for products, services and networks that will shape the next wave of innovation, CEA said.
In addition to the Tech Titans series, a new Technology Innovators keynote series was announced. The new series will "offer insight by innovators, thought leaders and disruptors – the rock stars of their industries. It is a stage for those with big ideas that are reframing the way technology will impact our interaction with the world today, and in years to come," said Chupka.
Keynote speakers will be revealed at a later date.
Four new CES SuperSessions were announced by Chupka, with topics including the second-screen experience, sensor-based hardware, inspiring innovation and emerging technologies. "From sensors and robotics to 3D printing and the rise of the second screen, the 2014 SuperSessions will cover industry developments that are changing the way we consume and interact with technology," said Chupka. "With industry leaders, tech executives, futurists and innovators, CES SuperSessions will feature the voices that are shaping our industry."
Also new at CES is the Hi-Res Audio Experience, a TechZone devoted to high-resolution audio content and hardware, featuring exhibitors as well as conference sessions featuring leaders from major and independent music labels, digital retailers, music creators and device manufacturers discussing the growing universe of high-res audio formats.
Located in the Venetian's Bellini Ballroom, the Hi-Res Audio Experience will be anchored by digital download pioneer HD Tracks and other companies including Acoustic Sounds Super HiRez Store and Blue Coast Music.
Chupka also highlighted several improvements to the show's logistics including: a completely redesigned website and improved mobile app; a program to provide tours of the show floor to interested attendees; enhanced bus shuttle service outside the show sites and throughout Las Vegas; a new "Experience CES" stage in the Grand Lobby of the Las Vegas Convention and World Trade Center (LVCC) highlighting each day's key events; and expanded badge pickup locations and a greener badge design.
Finally, CEA announced an expanded focus on the world of apps at International CES. The program track includes competitions, educational sessions and events that showcase the best of the app world, CEA said, including the CEA MoDev Hackathon, Wall of Apps and a Mobile Apps Showdown.
The CEA MoDev Hackathon competition will feature more than 100 developers competing individually or as teams for up to $100,000 in cash and prizes. The event will take place in the Venetian, Level 4, Lando 4301 on Tuesday, Jan. 7.
The Wall of Apps will showcase the most innovative apps of the year. Located in the North Hall of the LVCC, the Wall of Apps at CES is a hands-on, curated display of the best apps available for iOS, Androids, BlackBerry and Windows Mobile, CEA said.
The Mobile Apps Showdown at CES will put select apps to the test. App producers who think their innovation is the best will have four minutes to demo the app, and a winner will be determined by audience applause. There will also be an online vote for a separate online winner. SiriusXM hosts Gary Dell'Abate and Jon Hein are slated to host the Showdown on Jan. 9 in the LVCC, North Hall, Room N255.
International CES is expected to feature more than 3,200 exhibitors with close to 1.95 million square feet of exhibit space, Chupka said.
Latest posts by John Laposky
(see all)