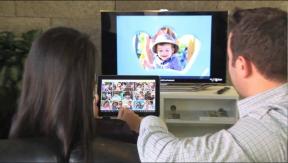 New York — Multizone audio is getting more app control.
CasaTunes launched a BlackBerry Z10 app that controls CasaTunes multizone music servers from anywhere in the house. And NuVo Technologies launched the beta version of an Android app, joining an iOS app, to control its Music Port and Music Port Elite source components in NuVo multizone-audio systems.
NuVo's Music Port and Music Port Elite delivers four simultaneous streams of audio from its embedded server, from networked devices and from multiple Internet Radio services. The two source components operate as stand-alone components or integrated with the company's Concerto, Essentia and Renovia multizone-audio systems.
The NuVo app provides for source selection, music navigation and control of all zones.
At CasaTunes, the company's first BlackBerry app controls the company's CasaTunes Music Systems, which can already be controlled by an Android app, iOS app or in-wall keypads.
Separately, CasaTunes upgraded its Android app to enable Android 4.2 or later smartphones and tablets to display cover art and images of the artist playing. The app also now also finds the music server faster.
With the CasaTunes systems, music can be played from music libraries on a networked computer, phone or tablet or from music services built into CasaTunes, including Spotify, Last.fm, TuneIn Radio and Shoutcast.
The systems distribute music to wired speakers and wireless AirPlay speakers through multizone A/V receivers and multizone amplifiers. One CasaTunes Multi-Room Music Server distributes music to up to three wired rooms and five wireless rooms, and one supports up to 24 wired rooms with 10 wireless rooms. The starting system at $1,999 provides three zones of audio with three wireless AirPlay speakers included.
Latest posts by Joseph Palenchar
(see all)