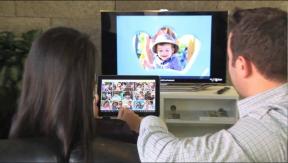 New York – There are a variety of ways tablets and smartphones can and should interact with a home's main TV, and those mobile devices can also help in selling the experience at retail.
That was the consensus of a panel called "Selling The Second Screen at Retail," held Thursday morning during the 2nd Screen Summit here, produced by the Media & Entertainment Services Alliance, and New Bay Media's TWICE, Broadcasting & Cable and Multichannel News.
The panel, moderated by TWICE executive editor Greg Tarr, featured Ben Arnold, industry analysis director of the NPD Group, Shawn DuBravac, , CEA's chief economist and senior director of research, Jeanette Howe, executive director of Specialty Electronics Nationwide, a division of Nationwide Marketing Group, Brian Siegel, direct operations VP of Sony, and Shane Higby, director of TV marketing for Samsung.
DuBravac said the installed base of portable devices is important to understand. He said that 40 percent of U.S. households have tablets, up from the prior year's 22 percent, more than 50 percent of households now own smartphones and the "density" of those products in the home – the number in each – is also increasing dramatically.
Arnold said, "The second screen is growing," but the applications are at an early stage yet. "A huge part of this is social and people know about Twitter and other sites, but with the number of connected screens growing in the home, second screen will grow.
The two manufacturers on the panel had interesting responses on the second screen phenomenon and how each approaches it.
Siegel of Sony said, "We have been focusing on multiple screens for a long time with Vaios, TVs, phones. We engage the second screen together and we see new opportunities [for the devices] to interact in new and interesting ways. The applications are important, but the hardware involved also has to be made more useful."
Samsung's Higby said his company is "in the third year of communicating second screen technology [to consumers]. We try to mirror apps and functions from tablet to TV and vice versa."
He added that Samsung has done bundled promotions "offering our Galaxy III with upscale TVs."
Howe addressed bundling, saying, "[Bundles] are good if they are profitable for the retailers. Sometimes margins come out of the product [with bundles] and since our members have consultative sales floors and other investments, [bundles can be] difficult."
Howe made a point on how tablets have changed the dynamic of retail sales.
"Tablets can be disruptive at retail. Consumers research a couple of SKUs at home and become experts in those products," she said.
Howe added that Nationwide uses tablets to sell second screen, and other products on the sales floor, because "we want to embrace consumers any way they want to speak with us. We have consultative sales force and we want to show [a Nationwide tablet] designed to show thousands of SKUs with features and pricing that salespeople can immediately show consumers and interact with them. This has to be part of what I call 'the art of the demo' at retail."
For more on the panel see the July 8 print edition of TWICE.
Latest posts by Steve Smith
(see all)