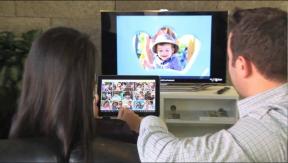 New York – Luxury-audio brand Meridian launched its first USB DAC, a portable USB-powered model that can be used with laptops for playing music through headphones.
The $299-suggested Explorer, which takes the shape of a finger-size cylinder, can also be connected to component preamplifiers via optical digital connection.
The product is the first in a range of computer-connected Meridian products in this price range, said product management director Ken Forsythe. Dealers have requested such products, he added.
The launch reflects the emergence of high-resolution better-than-CD music downloads and music enthusiasts who store their music library on computers and laptops, Forsythe said.
It also reflects a desire by Meridian to engage itself in one aspect of its luxury customer's lifestyle, he continued. Meridian offers luxury consumers high-end audio at home, in Meridian-branded OEM car sound systems, and now in their office, on a plane, or on a boat with the introduction of the DAC, he explained.
Meridian already offers home components with USB inputs to connect to PCs and laptops.
The new solution is intended for non-hardcore audiophiles who will pay $500 for headphones, he noted. Only one other company, AudioQuest, offers a similar portable DAC, the $249 Dragon Fly.
Meridian's solution, in stores Feb. 11, streams PCM files in their native form from laptops and PCs and supports 24-bit files sampled at 44.1, 88.2, 96, 176, and 192kHz sampling rates. The device doesn't up-convert files to higher sampling rates or word lengths. "This level of enthusiast wants to hear files natively," Forsythe said.
Distribution is through the company's retailers, but sales will be expanded sometime this year to Meridian's web site. At some point, the company will consider broader distribution, he added.
Latest posts by Joseph Palenchar
(see all)