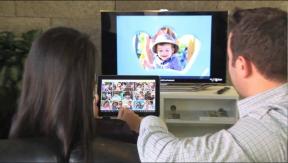 Fort Lauderdale, Fla. – Ultra-premium A/V manufacturer Meridian Audio will open its first U.S. retail store next week.
The showroom, located here, will be the vendor's 14th shop worldwide. Like its sister boutiques, the new Fort Lauderdale location was created to provide "a unique retail environment" in which to showcase the company's product line and present "a full Meridian experience," the U.K.-based manufacturer said.
That experience includes a state-of-the-art home theater featuring the company's distributed media systems, DSP digital active loudspeakers, and Reference-series line of music and video players. Other dedicated "zones" include The Gallery, which displays the Meridian's compact products and recounts its history, and The Concierge Reception, a lounge where clients can discuss system and installation details.
The showroom itself utilizes natural materials such as hardwoods, leather and fabrics in combination with accents of fine metals and architectural glass to present the premium line within a luxury setting.
"We are very excited about the first U.S. boutique and the continued growth of our global boutique program," noted John Buchanan, Merdian's sales and marketing executive VP.
The showroom is owned and operated by Nicholas Ehr and Tim Ralph, childhood friends who have been in the residential custom install and commercial IT business since 2003.
"Having been a Meridian partner for many years, we have great respect and admiration for the brand," Ehr said in a statement. "Once the boutiques started evolving, we knew that our area and expertise would be well-suited for the U.S. expansion. We love selling the Meridian experience — it's something we have a personal passion for and this opportunity is perfect for us."
The duo is already forging partnerships with other local business, including Ferrari of Fort Lauderdale, Ehr said.
"Nick and Tim are both very passionate about the brand and Meridian Fort Lauderdale will provide a great experience for customers," added Buchanan.
Based in Cambridgeshire, U.K., Meridian Audio was founded in 1977 by psychoacoustics expert Bob Stuart and design engineer Allen Boothroyd. The company is credited with developing the first audiophile CD player, the first consumer digital surround controller, and the MLP lossless packing system included in Blu-ray Discs.
Latest posts by Alan Wolf
(see all)